The Null Device
2004/4/18
Flyer seen in an inner Melbourne café: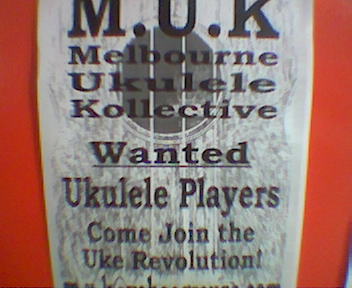 Colour me cynical, but I have some doubts about just how deeply the "Melbourne Ukelele Kollective" is informed by Marxist-Leninist ideology, as the name suggests. Granted, they could, by coincidence, be all committed socialists who gather to play the Internationale and other ideologically sound anthems of the radical proletariat on their ukeleles in North Korean-like unison, from each according to his playing ability; though, somehow, I doubt that. What's more likely is that they're just another group who decided to call themselves a "collective" because it's fashionable, in that apolitically consumeristic, Che-Guevara-T-shirt way.
This trend of calling everything collectives has been happening on university campuses for the past decade, as students eke out ways to be revolutionaries and radicals until getting that job at the accountancy firm; now, it seems to have spread to the mainstream, and appears to be losing most of its Red trappings, with "collective" becoming just the trendy replacement for daggy old words like "club" or "society".
What's next: The Chess Collective? The Red Rebel Motorcycle Collective? Celebrity fan collectives?