The Null Device
2004/5/25
Teenagers in Britain are obsessively going to tanning salons in a quest to look like heroes/success symbols like "Posh and Becks".
Real Story features a 13-year-old girl from Liverpool, identified as a blackspot for tanorexics, who has been visiting tanning parlours up to five times a week for the past year. Hayley Barrow, whose grandmother has skin cancer, explained: "If I haven't been on one [a sunbed] for one day I feel white, I feel transparent."
(Interesting that she mentions feeling "white" as a negative consequence of not tanning enough; I wonder whether there is a racial-aspirational dimension to this; with black groups and artists dominating the charts in recent years and (if the BBC's quizzes are to be believed) British kids speaking fluent US Hip-Hop Ebonics amongst themselves, whether having heavily tanned skin makes today's kids feel more "ghetto" or at one with their adopted culture. Judging by young Hayley's photo (she looks more like a white actor from a less politically-correct decade in blackface than a suntanned celebrity), it doesn't seem too far-fetched.)
"They call it the Posh and Becks syndrome," said Andy Carr, organiser of the Elite Teens disco. They want the tans, they want the clothes, they want the money."
¶ affluenza blackness celebrity chavs hip-hop tanorexia uk whiteness wiggers
Climate-change disaster flick The Day After Tomorrow, lauded by environmentally-conscious types across the US, has yet to be released here in Australia, but Ford are already running a Day After Tomorrow-inspired ad campaign to sell SUVs: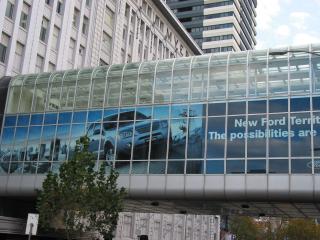 The message of the billboard seems to be that, when the Greenhouse Apocalypse comes and the cities are covered with snow, you can hop in your Ford Territory and go skiing.