The Null Device
2005/2/12
Your Humble Narrator went to the Prince Charles Cinema off Leicester Square for the launch of the second Goodies DVD compilation, picking up a copy of said DVDs.
The launch consisted of a screening of two of the episodes on the discs (The Movies and Bunfight at the OK Tearooms); not my absolute favourites from the compilation (that'd probably be South Africa or Radio Goodies), but enjoyable anyway.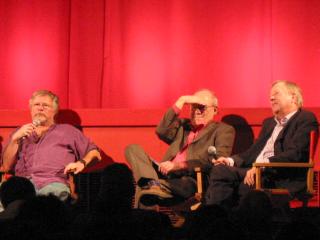 After the screening, the lights went on and the three Goodies took their seats on the stage. Tim still looked like Tim Brooke-Taylor, only without the Union Jack waistcoat (maybe he'll wear one during the upcoming Australian tour; who knows?), and Bill looked like an older version of his younger self. Graeme, however, was nigh-unrecognisable without his trademark sideburns (when asked by a member of the audience whether he'd grow them for the tour, he said he may buy a pair to wear).
Anyway, the Goodies answered questions from the audience. Some points that emerged from the session: there is a third 8-episode 2-DVD set planned, for later this year, by when, it is hoped, all the popular and interesting BBC episodes will be available (the Goodies reckon that there are 24 that fall into this category), and possibly some episodes from the final ITV series. Some episodes may not make it to release, due to licensing issues (apparently Michael Jackson is refusing rights to some Beatles material in Goodies Rule OK). The Goodies are about to embark on an Australian performance tour; one audience member asked whether they'd do any UK shows; they said that it's less likely, given that the BBC hasn't screened any Goodies episodes for a few decades, cutting down on the potential following. So it looks like the Aussies reading this should count themselves lucky.
The DVD itself is pretty good. It has eight episodes, and also a good deal of extras. I get the feeling that while the first one was made (relatively) quickly and cheaply, its sales exceeded expectations, resulting in more being put into the second one. As well as the episodes, we get several shorter sketches from other shows, commentary tracks, and PDF files of the scripts, in various revisions, not to mention a somewhat fancier animated DVD menu.
The DVD is listed as Region 2, though the first one (which was also thus listed) was Region 0 (i.e., playable anywhere); no idea whether this one is. It's also coming out in Australia in a month or so, and will probably be somewhat cheaper there.
A 26-year-old Oregon man has been arrested for organising an Valentine's Day suicide pact, using a chat room. Had he succeeded, as many as 32 users of a chat room, presumably all strangers brought together by a shared sense of hopelessness and disaffection, may have committed suicide on 14 February.
The authorities are busy trying to track down all chat room participants in order to prevent them from communicating on Valentine's Day, and thus from carrying out the synchronised mass suicide. Meanwhile, across the interweb, a thousand lonely misanthropes are probably kicking themselves for not having thought of it first. Though, given the existence of the Werther effect, i.e., the tendency of reports or fictional accounts of suicides to inspire waves of copycat suicides, one wonders whether the news of this foiled plan will be, in itself, enough to kick off a tradition of Valentine's Day online mass suicides.
This evening, Your Humble Narrator went to the Hope & Anchor in Islington to see The Smyths, who are, as you may expect, a Smiths cover band. They were quite enjoyable.
The band came on after another band, and the first thing I noticed was that they were a five-piece with two guitarists, as if no one mortal man born of woman could possibly be the match of Johnny Marr. Anyway, they played for over an hour, starting off with The Queen Is Dead (with lyrics changed to "dressed in Camilla's bridal veil"), and playing most of the Smiths favourites (This Charming Man, Shoplifters Of The World Unite, Sheila Take A Bow, William, It Was Really Nothing and Ask were just five), and a few Morrissey tracks. The front man, a chap with a quiff and glasses, played the part mostly well, singing much like Morrissey, and doing the mannerisms, albeit somewhat exaggerated (at the start, it looked a bit as if he were taking the piss, but then he started channeling the spirit of Moz in earnest), and gradually trying to wriggle out of his shirt. He didn't wear a hearing aid, though, and while there was a bunch of flowers on stage, he didn't put them in his back pocket. The audience treated the songs as singalongs, and the singer at times stopped singing to give them a chance; I believe many of them were regulars at Smyths gigs.
Anyway, it was an entertaining night, and about as close as one is going to get to seeing a Smiths gig (with the possible exception of Morrissey's solo gigs, which come pretty close too). They're certainly worth seeing if you're a Smiths fan from way back looking for a fun night out.