The Null Device
2005/2/20
The Maoist International Movement's review of SimCity 3000:
"Sim City" has completely bourgeois assumptions, which is why it is not MIM's favorite economic strategy game. The mayor has the power to set tax rates and this influences the level of development. There is no option to nationalize factories. The whole assumption of the game is that private enterprise will create everything in the zones legally established by the mayor.
An example of the importance of the game designer's analyses or opinions is the mayor's choice to build police stations. In actual fact in the capitalist world, having more or fewer police stations does not affect the crime rate, but in "Sim City 3000," police hiring levels affect the crime rate and thus property values. This is an example why it is important for Maoists also to write computer games. Propaganda and conventional wisdom say that police exist to reduce crime instead of perpetrating it. The truth that there is no effect of police hiring or budget levels on crime is difficult for the public to swallow. "Sim City" reflects the dominant but wrong view.
Meanwhile, Ikea now sells a rug for Objectivists. (via bOING bOING)
Sticker seen on a cash machine in west London, 18/2/2005: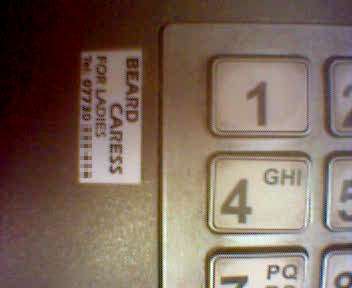 My first thought was that it must be a very specialised market. Not many ladies have beards, after all.
I just watched an episode of Nathan Barley. It's rather amusing; a sitcom set among a bunch of obnoxious coolsie wide-boys in some trendy part of London. They run in-your-face web sites and magazines (there's one named RAPE, which may or may not be a reference to Vice, present employers of Jim "Answer Me!" Goad), rap Streets-style over distorted beats, either take lots of drugs or act like it, wear ridiculous clothes and generally go around being insufferable twats to all concerned. It's written by Chris Morris, who also did controversial satirical TV series Brass Eye and wrote the lyrics to Stereolab's Nothing To Do With Me.