The Null Device
2006/1/19
As an uncommonly severe cold snap hits Russia, zookeepers are giving their animals vodka and other alcoholic beverages to help them endure the cold:
In the ancient town of Yaroslavl, 100 miles north of Moscow, a travelling circus said it had been forced to start giving its trio of Indian elephants vodka mixed with water in buckets as the mercury dipped.
In Lipetsk, where meteorologists recorded temperatures of minus 32C, the zoo's contingent of macaques was being fortified with cheap French table wine three times a day and in other zoos camels, wild boars and reindeer were being given regular shots of vodka to stave off the chill.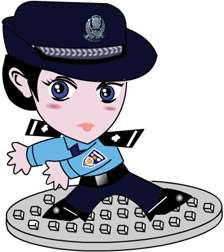 China's pervasive internet surveillance regime now has a new public image: from now on, either various government sites or all websites in Shenzhen will display cartoon mascots of police officers (looking big-eyed and oddly Caucasian). Clicking on the mascots will take you to a web page where you can talk with actual members of China's internet police. They do things differently in China.
(via bOING bOING) ¶ 0