The Null Device
2006/3/1
BBC Newsnight's Adam Livingstone sets the record straight on paedophiles, terrorists and file sharing:
First though, an apology. File sharing is not theft. It has never been theft. Anyone who says it is theft is wrong and has unthinkingly absorbed too many Recording Industry Association of America press releases. We know that script line was wrong. It was a mistake. We're very, very sorry.
If copyright infringement was theft then I'd be in jail every time I accidentally used football pix on Newsnight without putting "Pictures from Sky Sport" in the top left corner of the screen. And I'm not. So it isn't. So you can stop telling us if you like. We hear you.
With the intellectual-property industry (whose word-magicians are responsible for the "copying = theft" syllogism) making up an ever-increasing section of the economy of the West, and thus commanding the attention of politicians and bureaucrats, I wonder how much pressure will be brought to bear from high up for this particular Livingstone to be censured or sacked, and the BBC to toe the line.
The rest of the article goes on about ISPs blocking BitTorrent, other clients using encryption to bypass the blocks, and the resulting increase in encrypted content on the net allowing suspicious encrypted paedoterrorist communications, which would have otherwise drawn the security services' attention, to sink into the encryption soup unnoticed.
(via Boing Boing) ¶ bbc copyfight encryption paedoterrorists security
From Something Awful's Choose Your Own Adventure cover photoshopping contest: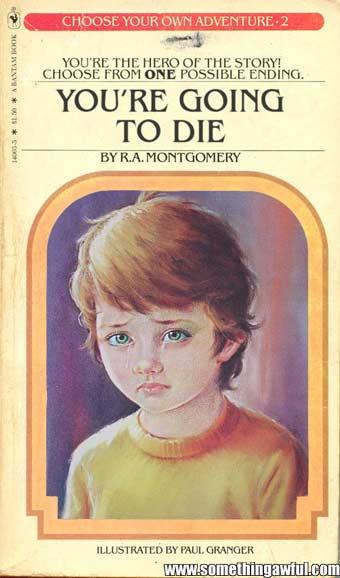 (via Boing Boing) ¶ 0
The Top Ten Sci-Fi Films That Never Existed takes apart what went wrong with various sci-fi films which did exist:
There was a movie that perfectly captured the Douglas Adams experience, the combination of bitter sarcasm and sharp imagination, the droll British wit and whale-exploding slapstick that infused his novels. And that movie was Shaun of the Dead. That movie was not, unfortunately, The Hitchhiker's Guide to the Galaxy, a movie that floated around Hollywood for about 20 years before it finally appeared in theaters as a flat, lifeless, americanized lump that was mostly hated by people who liked the book and loathed by people who hated the book.
Everyone remembers the exact moment when they realized that their Phanom Menace sandwich was filled with shit. For me, it was the scene on Tatooine where Qui-Gon is talking and Jar Jar is snatching fruit from the bowl with his tongue, eating like an insect. Annoyed, Qui-Gon reaches out and snatches his tongue out of the air and holds it in his fist while he talks. That was when I realized I was watching a cartoon.
So what happened? The Chicago Cubs, that's what. The Cubs haven't won a World Series since 1908. Why? Because Cub fans sell out Wrigley Field every game, regardless of how bad the team is. Management makes money regardless of whether or not the team is winning, so why bother? Likewise, studios think video game fans will pile into the theater on opening weekend regardless of whether or not any effort was put into the film. Will that change? Come ask me after I've seen the Peter Jackson-produced Halo.
I have a theory. There are two eras for the Hacker Movie genre. Pre-Matrix, hacker movies were always horrible and always box office poison (see Hackers and Johnny Mnemonic) that only appealed to a tiny segment of geeks. After The Matrix in 1999, every hacker movie was unfairly compared to The Matrix (incuding that film's own sequels, but we'll get to that in a moment). In neither era could you get the money to make a movie like Snow Crash. If you want your $150 million monster to get made, it'd had better be something with such universal appeal that even grandmothers will go see it. No hacker movie will have that and Snow Crash least of all: