The Null Device
2006/3/3
The anti-immigrant right in France has adopted a new tactic: handing out pork soup to the poor and hungry, pointedly excluding Muslims and Jews from their charity.
With steaming bowls of the fragrant broth soon passing through the crowd, Odile Bonnivard, a short-haired secretary turned far-right firebrand, climbed atop a dark sedan with a megaphone in hand and led the crowd in a raucous chant: "We are all pig eaters! We are all pig eaters!"
The movement began in the winter of 2003 when Ms. Bonnivard, a member of a small far-right nationalist movement called the Identity Bloc, began serving hot soup to the homeless. At first, she said, the group used pork simply because it was an inexpensive traditional ingredient for hearty French soup. But after the political significance of serving pork dawned on them and others, it quickly became the focus of their work.
(via NotW) ¶ conformism france islam judaism majoritarianism pork rightwingers xenophobia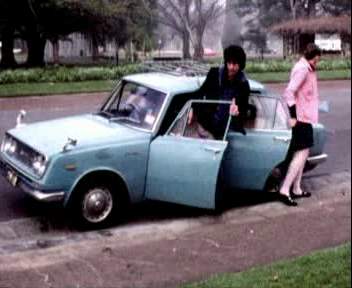 Melbourne/Brisbane twee-krautpop outfit Minimum Chips have released a video to their song Goodbye, from their most recent album, Kitchen Tea Thankyou. Filmed in oversaturated Super 8, it involves the band members packing into an old turquoise Toyota and going for a picnic in the park, and goes quite well with their music. There's a streaming Flash version on YouTube here, and Spiked Candy has put up a downloadable version here.
Apparently Minimum Chips are going on indefinite hiatus, as frontwoman Nicole is having a baby; which could mean no more Minimum Chips, or just a longer than usual wait for the next EP. However, they're not leaving fans empty-handed; they have posted (128kbps) MP3s of their entire back-catalogue, including their recent album Kitchen Tea Thankyou, on their discography page.
(via spikedcandy,
andy_yayus) ¶ 1