The Null Device
2008/1/22
After the recent "privacy Chernobyls", in which the personal data of millions of Britons went missing, possibly ending up in the hands of criminals, Cory Doctorow argues that personal data should be regarded with the same caution as nuclear waste:
The metaphor is apt: the data collected by corporations and governmental agencies is positively radioactive in its tenacity and longevity. Nuclear accidents leave us wondering just how we're going to warn our descendants away from the resulting wasteland for the next 750,000 years while the radioisotopes decay away. Privacy meltdowns raise a similarly long-lived spectre: will the leaked HMRC data ever actually vanish?
The financial data in question came on two CDs. If you're into downloading movies, this is about the same size as the last couple of Bond movies. That's an incredibly small amount of data - my new phone holds 10 times as much. My camera (six months older than the phone) can only fit four copies of the nation's financial data.
Every gram - sorry, byte - of personal information these feckless data-packrats collect on us should be as carefully accounted for as our weapons-grade radioisotopes, because once the seals have cracked, there is no going back. Once the local sandwich shop's CCTV has been violated, once the HMRC has dumped another 25 million records, once London Underground has hiccoughup up a month's worth of travelcard data, there will be no containing it.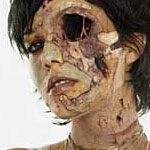 This page has some interesting-looking tutorials on how to use Photoshop (or the GIMP, for the penguinheads) to transform your family and friends and/or random celebrities/supermodels into hideous, decaying ghouls.
(via Boing Boing) ¶ 1