The Null Device
2008/4/1
In US presidential elections, as in any mass-marketing exercise, typography and design are important.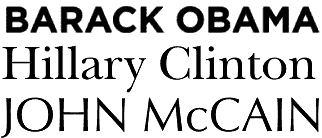 Most go for safely conservative, focus-grouped choices; Hillary Clinton has gone for New Baskerville, a typeface seemingly designed for hardcover self-help books and suburban real-estate agencies' signs. (The latter association may not be the most prudent, with the subprime crisis.) Republican war-hero John McCain has gone for Optima, which, coincidentally or not, is the typeface used on the Vietnam War Memorial in Washington DC. Both typefaces are decades old (and New Baskerville is based on 18th-century English book type), and published by huge type foundries that predate the computer age.
Barack Obama, however, has broken away from the typographical consensus, and gone for a new font named Gotham. Designed by Tobias Frere-Jones starting in 2000 and based on examples of vernacular signage and lettering, Gotham evokes the classic yet forward-looking appearance of 1930s modernism. And the Obama campaign's adoption of it has led some to call it the hot font of 2008:
Though a discussion of fonts may seem obscure, anyone who has agonised over the look of a wedding invitation or sweated over a resume knows that the shape of letters can say nearly as much about a person as the words they spell out. And in the computer age, the message conveyed by a font is no longer subliminal. It's overt.
¶ barack obama design gotham hillary clinton john mccain politics typography usa
Australia has apparently outlawed laser pointers after some griefers decided to aim them at aircraft for lulz. (Maybe they hoped that they'd get lucky and bring one down and get to see lots of cool flames and shit.) And so, thanks to the actions of a few cretins, the nation's cats are deprived of one more source of amusement.
The New York Times' online division has created a blog about the craft of songwriting. Named Measure For Measure, it will feature contributions from a number of songwriters. Currently, it has a piece by Andrew Bird on how he writes songs:
I'm not the most forthcoming person — I only speak when I have something to say. What is becoming more challenging of late is dealing with so many fully formed melodies that are unwilling to change their shape for any word. So writing lyrics becomes like running multiple code-breaking programs in your head until just the right word with just the right number of syllables, tone of vowel and finally some semblance of meaning all snap into place.
Bird then proceeds to dissect an unfinished song he is working on, from initial inspiration to (somewhat impressionistic) lyrics:
In the instance of this song I was on a flight from New York back to Chicago and a young mother and her 3-year-old son sat in front of me and it was looking to be the classic scenario of the child screaming bloody murder. However, I was struck by the mournfulness of this kid's wail. He just kept crying "oh no" in a way that only someone who is certain of their demise could. Pure terror. Completely inconsolable. It was more moving than annoying. So when I got home I picked up my guitar and tried to capture the slowly descending arc of that kid's cry. It fit nicely over a violin loop that I had been toying with which moves from C-major to A-major.
Words get under my skin the same way melodies do. Something catches my attention and I file it subconsciously. It often begins with an archaic or obscure word I have not defined. I just like the sound of it and its elusive meaning gives it a mysterious shine. On the menu of a local cafe is an item called "salsify." Before I reach for the dictionary I let my imagination run wild and decide that salsify is a burrowing bronchial root like a rickety old mine that burrows deep into something. It turns out that's mostly correct which encourages me further. All I know is "salsify mains" sounds good to me.