The Null Device
2008/4/4
Web toy of the day (if not the year): Hobnox Audiotool. A TR-909, two TB-303s and a bag of effects pedals in a Flash applet, with a nifty patch-cord interface.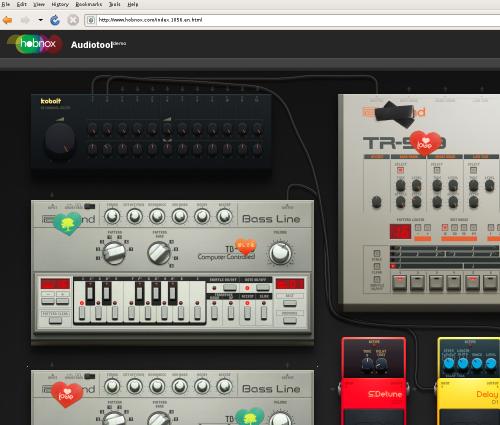 It sounds pretty authentic (well, at least as much as the various ReBirths and 303 softsynths) and flexible (the knobs produce the right amount of variation in the sound), which suggests that there is more to this than a bunch of samples in a simple player. The two options are:
Recent versions of Flash have some kind of MSP/SuperCollider-style unit-generator-based audio engine built in, and pre-stocked with a bunch of useful components (such as wavetable oscillators, envelopes, filters, delay lines, convolvers, &c.), so that the Flash code only has to assemble a network of these and press play. Which essentially means that this sort of high-powered computer music infrastructure has become thoroughly commodified, to the point of being embedded for free in the infrastructure, remaining unnoticed until one actually uses something made from it. And that it would be possible to assemble quite usable audio production web applications in Flash, or:
The applet merely communicates with a process on the web server, which synthesises the audio and streams it back to it.
Option (a) is, of course, the more exciting one. Anyway, I'd be interested to see how this is done.
(via MeFi) ¶ dance music electronica flash music nifty roland softsynths web toys
Today's words of advice: should you ever decide to burgle a funeral parlour, it is advisable to dress the part, so that, should you be interrupted, you can blend in with the customers, unlike this guy:
Police officers arrived with the owner, and eventually found the suspect lying on a table in a glassed-in chamber used for viewings of deceased people during wakes, a local police official said from Burjassot.
"The custom here is for dead people to be dressed in suits, in nice clothes that look presentable. This guy was in everyday clothes that were wrinkled and dirty," the police official said.
Also, should you have the dubious fortune to be nicknamed after a weapon of mass destruction,
don't write your nickname on any items you may leave lying around
.
(via Boing Boing) ¶ 0