The Null Device
2008/12/8
Microsoft's latest attempt to shake off their stuffy, corporate image: selling MS-DOS-themed 1980s retro T-shirts. No, really.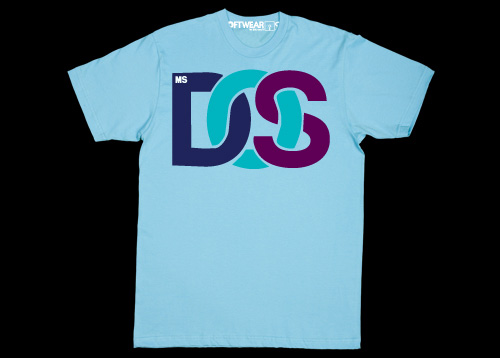 Marketed under the name "Softwear by Microsoft", they come in two lines: one consisting of "classic" designs (the old MS-DOS logo, circa Windows 3.0, the original Microsoft logo, and Bill Gates' mugshot from his 1970s driving conviction) and one co-designed with rapper Common, and involving references to the 1980s; there's one with some rap lyrics set in a monospaced font after a DOS prompt, and one featuring a pair of black-framed glasses and a pair of fluoro new-rave sunglasses.
It's not clear who will wear these. Pointy-haired boss types on casual Fridays? Visual Basic programmers who always wished they could wear cool geek T-shirts like the Linux guys but never actually understood any of the ThinkGeek ones? The guy in the office who regards himself to be with-it because he listens to Coldplay? Zune owners sick of being looked down on by those smug Mac users? Or are they expecting people to start wearing them ironically?