The Null Device
2009/1/13
The Royal Mail has just launched a new stamp series commemorating classics of British design: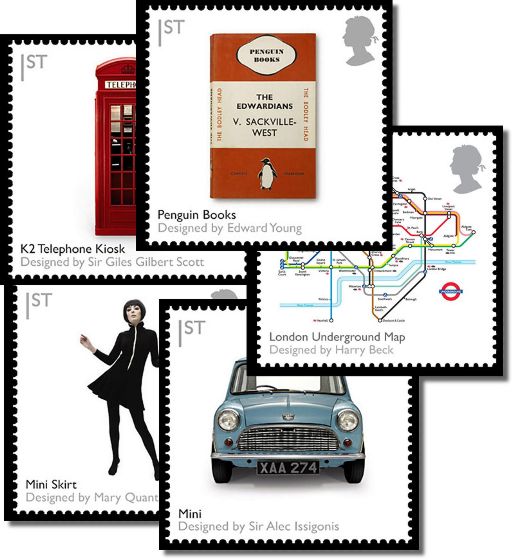 It's appropriate that each one features another British design classic, the typeface Gill Sans.
The Buffalo Beast has published its annual list of the 50 most loathsome people in America; the 2008 list, whilst undoubtedly going over the heads of many non-Americans in places (I didn't get some of the references), has nuggets of righteous vitriol:
20. Joe the Plumber
Charges: The Che Guevara of bald, pissed off white men. In a lot of ways, Samuel Wurzelbacher really does represent the average American—basing economic opinions on unrealistic expectations of personal future success, blaming his failure to meet those expectations on minorities and old people, complaining about deadbeats getting his taxes when he isn't actually paying his taxes, and advertising his own rudimentary historical and mathematical ignorance by warning of creeping socialism in a country whose highest income tax rate has dropped by half in thirty years. "Joe" indeed symbolizes the true American dream—to become undeservedly rich and famous through a dizzyingly improbable stroke of luck. As American folk heroes go, Wurzelbacher ranks somewhere between Hulk Hogan and Bernie Goetz.
10. Bernard Madoff
Charges: Normally, the idea of a bunch of billionaires getting robbed blind for believing in a free lunch would amuse the hell out of us, but Bernie Madoff stole a lot of money from charity endowments, and is responsible for two suicides so far. Here's a tip, Bernie: If you're running the biggest scam since the Catholic church, handling billions of dollars, and all it takes to get busted is that some of your marks ask for their money back, you really should take some of that money and set up an escape plan. Still, he gets some credit for making Mort Zuckerman look like a jackass. The real villains here are Christopher Cox and the SEC, who investigated Madoff eight times, the last time specifically on suspicion of running a Ponzi scheme, each time "finding" no wrongdoing, which begs the all-too-familiar question of the last eight years: Satanically corrupt or grossly incompetent? Either way, Madoff was finally brought to justice… by his kids.
1. Sarah Palin
Charges: If you want to know why the rest of the world is scared of Americans, consider the fact that after two terms of disastrous rule by a small-minded ignoramus, 46% of us apparently thought the problem was that he wasn't quite stupid enough. Palin's unending emissions of baffling, evasive incoherence should have disqualified her for any position that involved a desk, let alone placing her one erratic heartbeat from the presidency. The press strained mightily to feign respect for her, praising a debate performance that involved no debate, calling her a "great speaker" when her only speech was primarily a litany of insults to city-dwellers, echoing bogus sexism charges when a male Palin would have been boiled alive for the Couric interview alone, and lionizing her as she used her baby as a Pro-life stage prop before crowds who cooed when they should have been hurling polonium-tipped javelins. In the end, Palin had the beneficial effect of splitting her party between her admirers and people who can read.
(via Boing Boing) ¶ 0