The Null Device
2009/8/6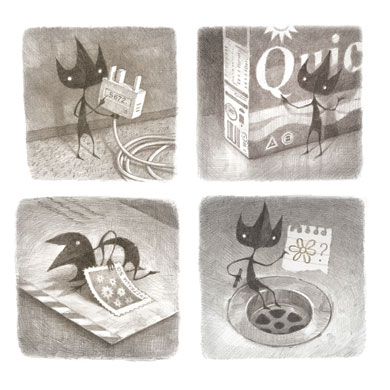 Read: Eric, an illustrated story by Australian illustrator Shaun Tan, which is somewhere between Edward Gorey and Katamari Damacy.
Tan has done a number of other works, among them, The Arrival, the wordless story of a man travelling around the world. It ended up winning a prize, and being bashed by right-wing populist rabblerouser Andrew Bolt, ostensibly because a book without words lowers educational standards, though one does wonder whether the fact that the author is named Tan and it is about immigration has anything to do with it.
Neil Gaiman (who's sort of the Goth Terry Pratchett) writes about the evolution of vampires in popular literature:
I think mostly what it has to do with is what vampires get to represent. Dracula was a great novel of sexual seduction, full of repeated sexual seduction and rape and sex. So it makes complete sense that your solid Victorian vampires were fundamentally evil. And you can have that nice big stake hammered through them as a way of putting them to rest. After that, I think the next big, huge, cultural, "somebody's just written a vampire story" is probably Stephen King's Salem's Lot. Steve basically wanted to do Dracula again, only in a small town in Maine. At that point you got vampires still sort of representing the "other." Then Anne Rice wrote Interview with the Vampire, which as a teenager I thought was a rather drippy book. I have to say as a teenager who loved vampire fiction and wanted vampire fiction, I thought they all sort of sat around being miserable.
But I think then the thing that changed everything and that gave vampire fiction a new lease on life and death was AIDS, because you hit the early '80s, and suddenly you have something in the blood that is an exchange of blood that kills and is altogether fundamentally about sex. And vampirism essentially came out of the closet as a metaphor for the act of love that kills. Stephen King once said, using the Erica Jung quote, that vampirism is the ultimate zipless f—. And then a sort of continuous transmutation, you had Lost Boys, which is essentially vampirism as wish fulfillment. Finally, of course there's Sesame Street, which I think may well have created the sympathetic vampire for the world in Count.