The Null Device
2010/3/20
A study by the Australian Centre for Independent Journalism has revealed that more than half of news stories in Australia were spin, driven by public relations. The Murdoch tabloids were the worst, with 70% of stories in the Daily Telegraph being PR-driven, while the Fairfax "quality" papers are as good as it gets; only 42% (only 42%!) of stories in the Sydney Morning Herald were PR-driven.
These statistics probably say as much about the Australian media landscape as anything else. Australia's media is quite homogenised and uncompetitive; a handful of proprietors have the mass media sewn up (there are two newspaper proprietors and about three commercial TV networks). The lack of competition has resulted in low standards of quality; for example, the Fairfax papers (The Age and The Sydney Morning Herald are the biggest ones) are generally regarded to be the "quality" papers, but compared to the British equivalents (such as The Guardian and The Independent), they come out poorly, heavy on the sex, sensationalism and celebrity gossip and light on content and analysis. (The effect gets worse as one moves away from Sydney and Melbourne; for several weeks a few years ago, the most-read story on the front page of Fairfax's Perth paper was "Man gets penis stuck in pasta jar".) Or compare The Australian (Murdoch's "serious" paper in Australia) to its UK equivalent, The Times: The Australian is more nakedly biased.
The Australian press, controlled by an incestuous oligopoly and not subjected to the indignity of competition, has become a stagnant pond. (Australian television, mind you, is much worse.) This is bad news for the kind of discourse required to sustain a mature democracy; a public fed simplified half-truths leavened with gratuitous doses of sensationalism will be in no state to engage on a meaningful level in debate about where their country is heading, leaving all that boring stuff to technocrats and vested interests. The internet provides some competition, but the alarming open-ended censorship firewall plans (all content "refused classification" will be filtered; this includes sites advocating euthanasia, illegal drug use (including offering safety advice) or video games unsuitable for children; the list itself will be a state secret, giving plenty of scope for other sites to be "accidentally" banned if convenient to do so) which look set to become law before the next election, leave a lot of scope for rival sources to be nobbled. (Not surprisingly, the Australian press has been quiet about the plans, echoing the official line that the plans are to "combat paedophilia" and are opposed only by some anarchistic extremists.) As such, it doesn't surprise me if Australia's press oligarchs make the most of their privileged position and cut costs by bulking their papers out with press releases to a greater extent than in more competitive markets.
(via Boing Boing) ¶ australia censorship democracy journalism media spin
The latest fashion in mainstream Hollywood filmmaking seems to be colour-grading films to a uniform palette of teal and orange:

The orange and teal look is an artefact of technological possibility and creative laziness. About a decade ago, filmmakers started digitising film and electronically manipulating it, which gave them the ability to adjust colours for the whole film as easily as tweaking an image in Photoshop. While some of the more visionary filmmakers have used this as a creative tool (the Coens made use of it in
Oh Brother Where Art Thou
to give the film a sepia look, and Peter Jackson made extensive use of colour grading in the Lord Of The Rings films), those churning out action films, who typically have no time for such hoity-toity concerns as artistic vision, needed a quick and easy formula for how to make their films look more awesome. And they got one in complementary colour theory; human skin tones (especially when oversaturated for extra awesomeness) look orange, and stand out most strongly against bluish-green hues. Thus, grading films to an orange-on-teal palette is a cinematic equivalent of
compressing the dynamic range of recorded music for extra kick-ass loudness
; both add extra zing, producing a product that's superficially exciting, at the cost of subtlety. Though who goes to see
Transformers
for subtlety, right?
As artificial as it looks, it'll look quaint once they figure out how to shoot entire films in HDR.
Clever design of the day: a 7" record sleeve which transforms into an acoustic record player: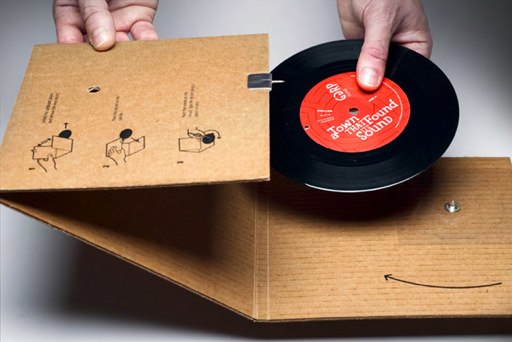 This one was created by an advertising agency named GGRP, as a demonstration. I believe that cardboard record players have existed for a while, but haven't heard of one which doubled as the record sleeve before.