The Null Device
2010/5/18
A Spanish mathematician has created a mathematical model of how marriages and relationships break down. Termed "sentimental dynamics", José-Manuel Rey's theory is based on the second law of thermodynamics, and posits an optimum amount of "energy" which needs to be fed into a relationship to sustain it: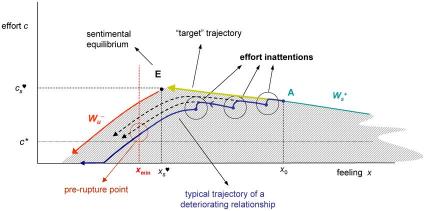 The results of the mathematical analysis showed when both members of union are similar emotionally they have an "optimal effort policy," which results in a happy, long-lasting relationship. The policy can break down if there is a tendency to reduce the effort because maintaining it causes discomfort, or because a lower degree of effort results in instability. Paradoxically, according to the second law model, a union everyone hopes will last forever is likely break up, a feature Rey calls the "failure paradox".
The paper may be found
here
. (Aside: note the use of the Unicode ♥ character in the equations; I wonder how common unusual Unicode symbols are in mathematical or scientific papers these days.)
(via MeFi) ¶ love mathematics psychology relationships sex
A Lebanese-American Muslim woman wins the Miss USA beauty contest; America's right-wing commentariat goes nuts:
Conservative commentator Debbie Schlussel pulled out all the stops, using Fakih's Shia Lebanese background to brand her a terrorist "Miss Hezbollah" and dismissed the colourful business magnate Donald Trump, who is one of the sponsors of the event, as an Islamic "dhimmi".
Another problem Schlussel's conspiracy theory runs up against is the fact that Hezbollah, being a conservative Islamic organisation, it is unlikely to be recruiting a scantily clad beauty queen as an agent provocateur. In a contorted effort to explain this, Schlussel falls back on an old neocon chestnut: "Muslims frequently go against Islam in this way for propaganda purposes. It's a form of taqiyyah, the Muslim concept of deceiving infidels."
Ich Werde Ein Berliner is a Stuff White People Like-style blog only purporting to unmask the hidden rules of being a member of the "Elite German People" (the word "German" is used there in the way Christian Lander uses the word "White") who populate the hipper parts of Berlin, ostensibly for the benefit of the numerous auslanders moving to Berlin for its creativity, edginess and bohemianism. The blog presents a tour of the various hipster leks, arms races and balancing acts for demonstrating one's cultural bona fides as a Berliner (and that one is not one of the Wrong Types of Germans), subtly underscoring the contradictions and absurdities beneath their surface.
There are, for example, entries on personal transport (summary: two wheels good, four wheels bad), techno music, obsession with Japan China, the 10% of (mostly bourgeois professional) Germans who model themselves on Americans, café culture (one thing one can't argue with there) and the semiotics of soft drinks, audio-visual media (apparently not having an interest in it is considered by Berliners to be a sign of deep sociopathy), the precarious balancing act of Berliner irony and Berliners' relationship to other German cities (apparently Cologne is not so much a mecca of underground electronica as a boringly bourgeois provincial town inhabited by orange-tanned, Ed Hardy-attired "guidos"; Munich, meanwhile, exists solely so that Berliners can slag it off for its conservatism and boringness) and the inevitable ordeal of family Christmases ("One good rule of thumb is - the more artiste, urbane, and bohemian a German person appears, the more remote and redneck his family background will be. For example, all those cross-dressing, Ketamine-addicted, full-body tattooed gay skinhead minimal-techno deejays (so, roughly 20% of the population of Berlin), stem from (remote rural towns in south-western Germany).")