The Null Device
2011/7/15
Web design webzine Smashing Magazine has an interesting article on Berlin's street-art heritage:
After the few East Germans who crossed the Berlin Wall in the '80s blinked and pinched themselves, what do you think was the first thing they saw? They saw big bubbly letters, spelling out words in German, English and French. They saw political slogans, either carved indelibly into the concrete or sprayed temporarily onto surfaces, commenting not only on the situation in Germany, but on the whole political world: "God Ble$$," "Concrete Makes You Happy," "Death to Tyrants." As far as they could see, covering every inch of wall, was layer upon layer of zest, life and color.
After the collapse of the Berlin Wall, the graffiti artists marched straight into East Germany. Mitte, Friedrichshain, Prenzlauer Berg — all of the areas that the military had occupied became a new playground for the Western artists and became a new world for the Eastern artists who joined them. Few doubted that the East Germans' work was weightier. It wasn't that they were better artists, but that they could express — with authority — the one concept close to the hearts of all people now living in the city: what it meant to be free.

The article briefly profiles and analyses the work of a number of Berlin street artists, including XOOOOX (who does impeccably drawn black-and-white stencils of glamorous fashion models, sometimes relieving themselves), Mein Lieber Prost (whose sketches of jolly cartoon homunculi have become immediately recognisable)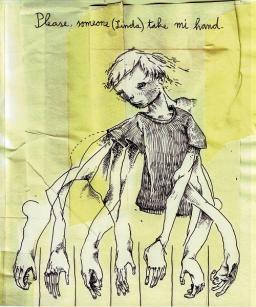 and the curious case of Linda's Ex, an artist who, in 2003, put up hand-drawn posters imploring someone named Linda to take him back, engaging others to debate whether the object of the unknown artist's affections should return to him, before revealing that Linda never existed, and the whole thing was an art project, sort of like a web soap implemented in wheatpaste.
At first, people either ignored the posters or were mildly curious. But as both the pictures and messages increased in intensity, they had no choice but to take notice. On one poster, Linda's ex told his estranged lover that he would be waiting to speak to her at a certain bar every Saturday and Tuesday night. People were starting to believe that his suffering was real. And if his suffering was real, then they did not doubt that he needed help.
People enjoy XOOOOX's approach because of his objective treatment of his subjects, presenting each model as neither happy nor sad, neither warm nor cold. He even draws one model urinating on the ground; while some might interpret the piece as a sign of arrogance, XOOOOX's signature, flowing from her head like a thought bubble, persuades sensitive observers to judge her on a more humane level. She is, he suggests, just like everyone else.
The article also mentions the peculiar status of street art in Berlin. Graffiti is, of course, an outlaw activity and subculture, and gets its vitality from its fraught, illegal status. Berlin (the capital of Germany, a country not known for its citizens' cavalier disdain of regulation, no less), however, gets a lot of its buzz (and, indirectly, tourist revenue) from this underground culture. Berlin's police insist that graffiti is a crime, whilst focussing their enforcement efforts on gang-related tagging. Meanwhile, having dodged the threat of prosecution, street art arguably faces the threat of legitimacy, of being turned into just another cultural consumable in a gentrified playground for the affluent:
Today, such work has made the street art a tourist attraction. Kunsthaus Tacheles, once an artists' squat and still a focal point of the scene, holds disco nights downstairs and sells urban art books upstairs — its bar is as expensive as anywhere in the city. Artists such as XOOOOX, Mein Lieber Prost and Alias have started to exhibit and sell in galleries. They still work on the street, but they are no longer impoverished artists — if they ever were. They can afford to travel and work in countries across the world.
While these artists believe that street art needs to appeal to a wider audience, the local, more traditional artists, such as the tagging crews, disagree. They argue that street art derives its power from being on the margins of society; only from the outside can they address problems within it. That difference of opinion is opening a space in the scene that can be filled only by the mainstream. In the next few years, street art has the potential to become a social movement as inclusive as anything from the '50s and '60s.
Does it make sense to talk of tagging crews as "artists", though?