The Null Device
2013/6/15
The Australian Greens have a fine line to walk; maintaining an integrity of values whose lack doomed the third party which preceded them, the now-defunct Australian Democrats, whilst avoiding becoming a single-issue party (as their name suggests), or allowing themselves to be tarred with the brush of extremism. So far, they have succeeded modestly; having some of the most scientifically literate MPs in Parliament and a commitment to evidence-based policy helped, though could only go so far when the Murdoch-owned 70% of the press vilifies them as witches Stalinists and the remaining Fairfax papers deny them the oxygen of publicity, making it easy for people who don't read New Matilda on the tram in between cycling to their favourite vegan café to joke about them as a bunch of dippy hippie rainforest mystics. Gradually, though, with the internet, and the effort of party workers, they have been making slow inroads towards mainstream acceptability.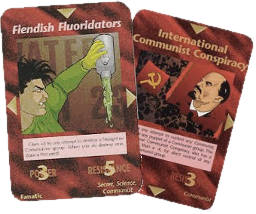 That is, until the New South Wales branch (why does it always have to be the NSW branch, in every party?) called for an inquiry into fluoride in the water supply, at the behest of the tinfoil-hat community having lost a court challenge to water being fluoridated. As yet, no plans for inquiries into chemtrails, UFOs or whether or not world leaders are shape-shifting reptilians have been announced. But still, despite all their hard work and generally impeccable rationalist credentials, Tim Ferguson's caricatures of the Greens looks slightly less ridiculously inaccurate.
I can see this possibly costing the Greens seats in the next election. The ALP has been faced with a drain of educated, progressive-minded voters to the Greens in recent elections, which has cost them inner-city seats such as Melbourne (where the Greens' Adam Bandt will be fighting off a challenge from Labor). The threat of a sweeping landslide in favour of a hard-right Abbott government, whose promises not to feudalise industrial relations, ban abortion and generally drag Australia back to the penal-colony era via Howard's white-picket-fence father-knows-best 1950s have not convinced everyone completely, could compel the proportion of the electorate who don't understand how preferential voting works to vote Labor first, bleeding votes from the Greens. If the Greens manage to keep up the momentum, the appearance of leaflets, quoting their NSW MP John Kaye about fluoride and suggesting that a parliament with Greens in it will be tied up with chasing moonbeams at the taxpayer's expense, rather than (as has been the case) holding the two old parties to account on issues such as health care funding, schools and renewable energy, could swing the vote against them. So yes, nice work, Mr. Kaye.
¶ australia conspiracy theories greens politics psychoceramics