The Null Device
indie partay/bbq
Today I saw a guy named
Gary Wiseman
(who has interesting CD packaging), the always lovely
Jen Turrell
, local guitar/double-bass act
Sodastream
and
Amy Linton
of the
Aislers Set
play, in a backyard in inner Melbourne. Which was fun, if a bit chilly at times.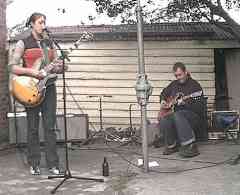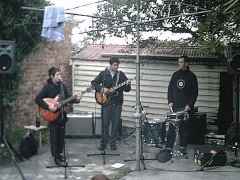 Every band venue should have a Hills hoist in the middle... And every backyard should have a PA setup and a combination mixing console/compost bin.
And that was probably the last time I will see Stewart and Jen (two genuinely lovely people and very talented musicians) for some time, as they leave Australia this week, not to return for some years. The next time will probably require me to visit the US or something like that.
There are 2 comments on "indie partay/bbq":
Please keep comments on topic and to the point. Inappropriate comments may be deleted.
Note that markup is stripped from comments; URLs will be automatically converted into links.