The Null Device
Chung On dude!
This evening I went to Nic of
Dandelion Wine
's birthday do at Chung On, a good (if stuck in the '70s decor-wise) Chinese restaurant in Moonee Ponds. A good time was had by all, with a lot of entertaining conversation (not to mention good food; the mango chicken is highly recommended). And the background music was quite amusing; just sufficiently loud to be audible during lulls in conversation, it consisted of an endless loop of ridiculously bland elevator-music instrumentals of pop songs (everything from George Michael's
Careless Whisper
, performed Kenny G-style, to Burt Bacharach's
Raindrops Keep Falling On My Head
; no Nirvana or Smashing Pumpkins covers just yet, but give them time).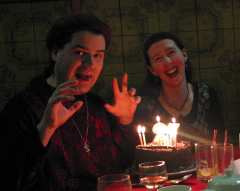 There are no comments yet on "Chung On dude!"
Please keep comments on topic and to the point. Inappropriate comments may be deleted.
Note that markup is stripped from comments; URLs will be automatically converted into links.