Today, I received in the mail a copy of the 7"
Manufacturing Resent
, by
Clag
, an indie-pop band from Brisbane in the early 90s. The album was recorded almost exactly 10 years ago (the sleeve says September 1993), and consists of six shortish songs; it spins at 33 1/3 RPM, presumably a common indie trick to squeeze more on a cheap 7".
The songs tend towards the twee indie-pop side of things, though the naïve, childlike lyrics (which probably make Architecture In Helsinki look like Burzum or someone by comparison) are underscored by very polished and competent pop arrangements. The two sides of the raspberry-cordial-red vinyl single are labelled the "Happy Side" and "Scarey Side" (sic.), with appropriate drawings in an underground-comics style on the labels.
The "Happy Side" starts with Goldfish, a song about vaguely anthropomorphic goldfish ("look look look in the goldfish bowl and they'll look right back at you"); the lyric about them having a party, eating gelati and drinking Bacardi reveals the song's Queensland origins; were the song written in Melbourne, the partying goldfish would probably have been drinking vodka or Melbourne Bitter or something. The knowing way the singer sings "at the little girly fish the boys will be glancing" is worth it in itself; though I'm not sure about the gargling solo. The icthyan theme continues in the more downbeat Paranoid ("fish have eyes they're following me, yeah, don't know why they bother with me, don't they know I'm bo-o-ring?"). The side ends with a song about a security guard at a shopping centre, with some nice almost ska-ish trombone.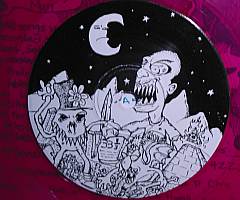 The "Scarey Side" starts with "Barberella Part 1", presumably a homage to the Jane Fonda film. Then there's "Cow", with lyrics like "cow, c-c-c-c-cow cow cow cow, dog d-d-d-dog dog dog dog", and finally a slightly more meaningful song named Chips & Gravy.
The sleeve folds out to reveal a page of lyric fragments, random graffiti-like phrases ("What do you mix powdered water with?") and drawings (such as the Triple J logo with "Triple 6" underneath it), copyright-violating drawings of cartoon characters and even some cut-up text about the pathology of atonal music.
Oh yes; the Chomsky reference in the title. Chomsky is mentioned in the graffiti inside the sleeve, and the credits thank him "and social engineers the world over". However, that is is about as political as this record gets; there is no politics or social commentary, radical or otherwise, in the lyrics. Unless, of course, there is some sneaky subliminal subversion buried within the twee-pop lyrics and arrangements, designed to subconsciously instil political consciousness over repeated listenings to the ostensibly innocent lyrics. (Which is an interesting tangent for speculation; though if someone was to do that, they'd presumably choose a vector more likely to reach mass audiences; top-40 dance-pop, perhaps? Perhaps, in a more paranoid parallel universe (or a Philip K. Dick novel), such a record could have been an ideal test of subliminal persuasion/mind-control technologies; a low-profile, low-risk dry run before the personnel involved got new identities and jobs at major labels churning out boy bands? Actually, perhaps I'll use that idea in a story sometime...)
But yes; Clag's Manufacturing Resent is a charming piece of twee indie-pop. Last time I checked, 3 Beads of Sweat in Chicago were selling copies for US$2 plus shipping; they may still have some, but if they're all gone, I'm afraid you're on your own. Unless some kind soul posts MP3s somewhere or something.