The Null Device
Disney on Brunswick St.
I was on Brunswick St. today and saw, on the side of a shop, a Mickey Mouse comic, including Disney signature and copyright message, rendered as aerosol art: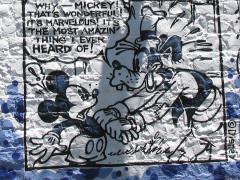 This could mean one of two things: either Disney are now adding their brand to the family entertainment experience that is Brunswick St., or it's not actually authorised by Disney, but rather is some form of détournement or "subversive" post-Warholean art project or something (possibly even a commentary on the sanitisation and commercialisation of Brunswick St.?).
There are 1 comments on "Disney on Brunswick St.":