The Null Device
Hyperscore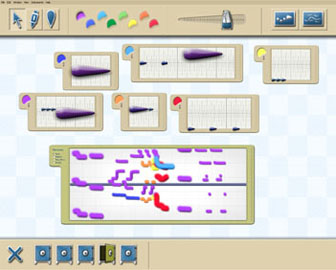 This looks pretty cool; the latest thing from the MIT Media Lab,
Hyperscore
, a new music-composition program which works in an interestingly high-level paradigm. Rather than working with notes or loops, it uses "motives", which can be applied by drawing lines; harmonies can be created by shaping a "harmony line". There is a free version
here
; it's apparently limited to only 30 to 60 seconds per song, and is promoted as a ringtone creation tool. It's currently Windows-only, though
the WIRED article
says that Mac and Linux versions are "in the works". (A Mac version I can believe; as far as Linux goes, I'll believe when I see it. Then again, the fact that MIT's $100 laptop for the developing world will run Linux could be reason enough for them to make one.)
There are 1 comments on "Hyperscore":
Please keep comments on topic and to the point. Inappropriate comments may be deleted.
Note that markup is stripped from comments; URLs will be automatically converted into links.