The Null Device
Minimum Chips' Goodbye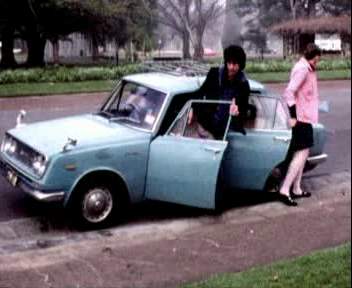 Melbourne/Brisbane twee-krautpop outfit
Minimum Chips
have released a video to their song
Goodbye
, from their most recent album,
Kitchen Tea Thankyou
. Filmed in oversaturated Super 8, it involves the band members packing into an old turquoise Toyota and going for a picnic in the park, and goes quite well with their music. There's a streaming Flash version on YouTube
here
, and Spiked Candy has put up a downloadable version
here
.
Apparently Minimum Chips are going on indefinite hiatus, as frontwoman Nicole is having a baby; which could mean no more Minimum Chips, or just a longer than usual wait for the next EP. However, they're not leaving fans empty-handed; they have posted (128kbps) MP3s of their entire back-catalogue, including their recent album Kitchen Tea Thankyou, on their discography page.
There are 1 comments on "Minimum Chips' Goodbye":
Please keep comments on topic and to the point. Inappropriate comments may be deleted.
Note that markup is stripped from comments; URLs will be automatically converted into links.