The Null Device
The Alpine Tube
As part of an ambitious plan to divert all cross-country freight onto the railways, the Swiss are digging
a railway tunnel under the Alps
. The tunnel, which (at 57 kilometres) will be the world's longest, will form part of a new, faster railway link between Zurich and Milan, and make crossing the Alps quicker and easier than it has ever been:
A key feature of the project, which is new to alpine transport, is the fact that the entire railway line will stay at the same altitude of 500 metres (1,650ft) above sea level.
This will allow trains using the line to reach speeds of 240km/h (149mph), reducing the travel time between Zurich and Milan from today's four hours to just two-and-a-half. That would make the journey faster than flying.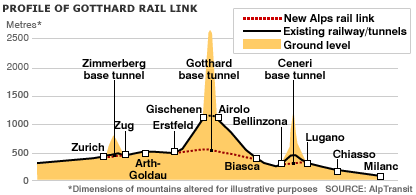 Whilst initially intended for freight, the service is expected to carry passenger trains; an underground railway station has been established one kilometer beneath the village of Sedrun, for use in the construction project, and there are plans to turn it into a passenger station, to be known as "Porta Alpina", or "gateway to the Alps":
Tourists will be able to arrive by train in the Alps in record time, and then be whisked up to fresh mountain air by way of the world's longest elevator.
On one hand, travelling to the Alps by high-speed train, ascending in a lift and emerging in a tiny Alpine village does sound cool. On the other hand, I had the good fortune to travel from Zurich to Milan by the slow way—the train winding around the sides of silvery lakes, crossing bridges over valleys and corkscrewing its way up the Alps on the German-speaking part, going through a (relatively) short tunnel at St. Gotthard's Pass, and then coming back down on the Italian-speaking part, with its entirely different architecture and vegetation, and that was (as you can undoubtedly imagine) a magnificently scenic journey. A tunnel just wouldn't be the same.
There are no comments yet on "The Alpine Tube"
Please keep comments on topic and to the point. Inappropriate comments may be deleted.
Note that markup is stripped from comments; URLs will be automatically converted into links.