The Null Device
Unusual billable items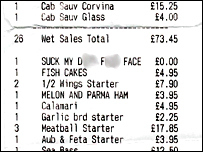 There are red faces in Staffordshire after a dining couple
received a restaurant bill containing an obscenity
. The computer-printed bill from Joe Delucci's restaurant in Lichfield contained, among its items, one reading "SUCK MY D___ F___ FACE", or something similar to these words, billed at £0.00.
The restaurant's owner apologised and explained that the message should only have been seen only by the kitchen staff, and should have never ended up as an item on the bill. In what context said message should have been seen by the kitchen staff has not been explained.
There are no comments yet on "Unusual billable items"