The Null Device
Indie music isn't working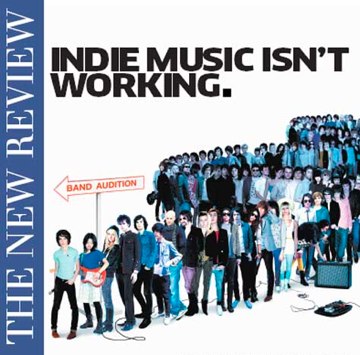 The Independent has a pretty authoritative piece on
the terminal decline of the genre of "indie"
in the UK, from its origins as independent, defiantly noncommercial popular music (typically released on small DIY labels) in the late 1970s and 80s, through the Britpop hype explosion, and to the present day, when "indie" means formulaic, commercially-oriented guitar rock by image-conscious young Blatcherite careerists:
John Niven was an indie fan in the 1980s, an A&R man in the Britpopping 1990s, and is now the author of Kill Your Friends, a sadistic satire of the record industry of which he was once an enthusiastic member. "I was in Gap a few weeks ago and there was some sort of generic indie music playing," he says. "I was with a friend who's a promoter and a bit younger than me. After about three or four tracks I asked him: 'Whose LP is this?' And he said, 'No, it's a compilation.' Every track sounded identical. The guitars, the production; all these bands sound like they're made in the same studio with the same producer. It's such a ball-less, soulless, generic whitewashed indie sound. You could probably take a member from each band and throw them together in a new group and no one would be able to tell the difference. They're completely interchangeable. Scouting for Girls are like the sound of Satan's scrotum emptying. They're abysmal."
"[Britpop] was great fun," wrote the journalist Andrew Collins in a 2006 piece for Word. "But it wasn't indie, and it pushed a whole slew of workmanlike guitar bands centre-stage, where they were even expected to represent their rebranded country, giving the quite false impression that Cool Britannia was an Indie Nation. The essence of New Labour, indie was capitalism dressed up as revolutionary socialism."
These days the term 'indie' is little more than a generic sonic description for any band that plays guitars and probably wears skinny ties, skinny jeans, and skinny cardigans. Collins, a former NME writer and ex-editor of Q, says now: "'Indie' has become a meaningless term. It just covers guitar bands. But it was never meant to be about a type of music, it wasa spirit and an attitude. When I glance around the bands that are supposedly 'indie' today, I don't see any attitude. I don't see any content in their records, any political interest in the band members. They're a terrible generation, unfortunately, but they're becoming famous overnight and selling a lot of records. I've heard them called 'mortgage indie'. It's a career path – a way of making a lot of money very quickly. The Kooks did so well so quickly. Scouting For Girls, from a standing start, have become a really big band. The Fratellis have become massive in a remarkably short time."
Here's another term for the indie glossary: a "firework band". It means a widely touted young act whose label has a debut LP to sell. They begin their professional lives by exploding into the top of the charts, shine brightly, then drop out of sight. The turnover of new acts is terrifying. Parklife, lest we forget, was Blur's third album.
Also in the Independent, an apposite example of "mortgage indie" as a career move, in which a Cambridge indie band named Hamfatter
turns to venture capitalism to bypass the recording industry
. Which is something I have mixed feelings about: on one hand, from a business perspective, this is as indie in attitude as it guest. On the other hand, when art is seen through the jaundiced lens of business, with market research and venture capital, business plans and promotional campaigns, that is somewhat saddening. What happened to art made for the sake of art, without commercial calculation? Is there even a place for it in the post-Blairite marketing society? The new indie revolution may be about allowing the little guys to be as soullessly mercantile as only the old, huge record labels could afford to be.
There are 8 comments on "Indie music isn't working":
Please keep comments on topic and to the point. Inappropriate comments may be deleted.
Note that markup is stripped from comments; URLs will be automatically converted into links.