The Null Device
No black cat for you!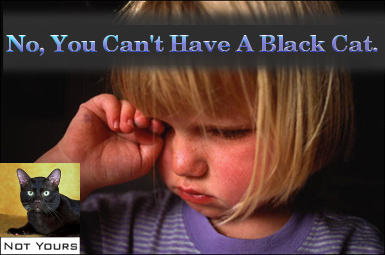 Some animal shelters in the US are
refusing to give black cats away for adoption before Halloween
, lest the hapless moggies end up abused or sacrificed in Satanic rituals. The same goes for white rabbits, it seems. (I'm guessing that goats and black cockerels aren't found often enough in animal shelters to be an issue˙)
"It's kind of an urban legend. But in the humane industry it's pretty typical that shelters don't do adoptions of black cats or white bunnies because of the whole satanic sacrificial thing," Morgan said. "If we prevent one animal from getting hurt, then it serves its purpose."
"Black cats already suffer a stigma because of their color," said Gail Buchwald, vice president of the American Society for the Prevention of Cruelty to Animals shelter in New York City. "Why penalize them any more by limiting the times when they can be adopted?"
Apparently superstitions about black cats are not uncommon in the US:
Black cats tend to be adopted less often than other felines, Buchwald said. "Behaviorally, there's no difference from the color of the cat. It's tied into this whole mythology about the animal — don't let it cross your path or some foreboding or foreshadowing of evil — and that's an outdated superstition," she said.
There are 1 comments on "No black cat for you!":