The Null Device
Five peculiar English folk dances
In the wake of the latest report of the imminent death of Morris dancing, an activity many people undoubtedly imagine to be the alpha and omega of odd English folk dances, the Graun has an article
setting the record straight
, by listing five even more peculiar-looking (and thus undoubtedly more imperilled) traditional folk dances, complete with YouTube video: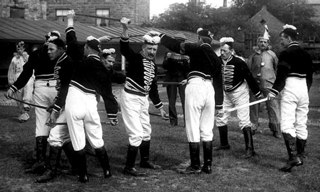 Despite the misleading name, longsword dancing does not involve the use of actual swords. Rather, each dancer holds a length of steel or wood by the handle in their right hand, and grips the point of their neighbour's "sword" in their left. Linked together, they form circles and dance over and under their makeshift swords, flowing through brisk and orderly figures and steps. The centrepiece of the dance is the star-shaped formation made by the circle-weaving and the locking of swords high in the air.
From the video, longsword dancing resembles one of the dances in The Wicker Man, though is from Yorkshire, rather than the Scottish islands.
And then there's Molly dancing, which appears to be almost like a Victorian folky version of A Clockwork Orange. Could an updated Molly dancing be the next Gypsy-punk?
This type of dance was performed mainly by agricultural labourers in East Anglia during the late 19th and early 20th centuries. Disguised with blackened faces and sporting women's clothing, Molly dancers roamed the streets, dancing in exchange for money to supplement their meagre wages. They were often destructive, drunk and disreputable, and social reforms led to the custom dying out in the 1940s. In the 1980s and 90s, young people from the south-east rediscovered and reinvented the tradition from the few scraps of information that had been preserved.
There are no comments yet on "Five peculiar English folk dances"