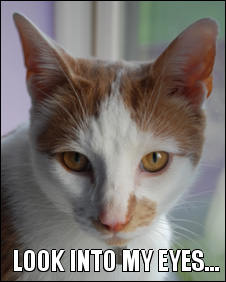 A BBC reporter investigating the regulation (or lack thereof) of hypnotherapists in the UK managed to
register his cat as a hypnotherapist
with no fewer than three professional bodies:
In the UK, George was registered with the British Board of Neuro Linguistic Programming (BBNLP), the United Fellowship of Hypnotherapists (UFH) and the Professional Hypnotherapy Practitioner Association (PHPA).
The BBNLP said it exists only to provide benefits to its members, not to check or certify credentials.
There are 2 comments on "Hypnocat":
Please keep comments on topic and to the point. Inappropriate comments may be deleted.
Note that markup is stripped from comments; URLs will be automatically converted into links.