The Null Device
Rough Trade Indiepop 09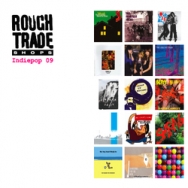 Rough Trade are releasing
another indiepop compilation
. Unlike the previous one, this one is not so much C86/Sarah/Postcard classics as music from the recent wave of indiepop. It's predominantly Swedish and British, though the recent wave of neo-C86 bands from New York (has anyone called this NYC86 yet?) is represented, as are bands from further afield (the Philippines' contribution is the excellent Moscow Olympics).
(Oddly enough, there is no Antipodean presence there; would it have killed them to put a Motifs song in?)
The compilation is comes out on the 9th of November; you can pre-order it here.
There are 3 comments on "Rough Trade Indiepop 09":
Please keep comments on topic and to the point. Inappropriate comments may be deleted.
Note that markup is stripped from comments; URLs will be automatically converted into links.