The Null Device
Miso and Ghostpatrol's map of Melbourne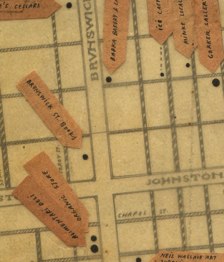 Acclaimed Melbourne street artists/underground illustrators Miso and Ghostpatrol have released
a downloadable, printable map of inner Melbourne
(or, as some would argue, the parts of Melbourne
White People like
). The map consists of two sheets, covering the CBD and Fitzroy, and showing the locations of cafés, bars, art spaces and art supply shops; it may be downloaded from
here
.
The choice of the CBD and Fitzroy suggests that gentrification doesn't seem to have affected the north/south divide. North of the Yarra is hip and culturally rich, whereas south of the Yarra is merely trendy, a shallow, consumeristic imposter for actual cool; St. Kilda (once the crucible of punk—blah blah blah Nick Cave blah blah Seaview Ballroom— but now, as The Lucksmiths so appositely worded it, home of bright-eyed boys in business suits, tourists where once were prostitutes) and Prahran (which committed the cardinal sin of getting house music and T-shirt boutiques a decade before Fitzroy) don't rate a mention in the psychogeography of cool in Melbourne. And while Fitzroy real estate prices approach South Yarra levels, there is still enough of a cultural legacy (not to mention tram routes from more affordable areas) to maintain the area's claim to cultural vitality.
There are 1 comments on "Miso and Ghostpatrol's map of Melbourne":
Please keep comments on topic and to the point. Inappropriate comments may be deleted.
Note that markup is stripped from comments; URLs will be automatically converted into links.