The Null Device
Jack Kevorkian, painter
In addition to inventing the death machine, helping terminally ill patients end their lives and serving eight years in prison for murder for having done so, Jack Kevorkian
also painted
.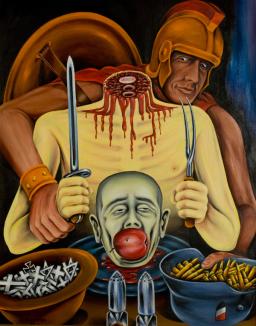 His paintings weren't like the all-too-ignorable kitsch painted by other historical figures like Hitler or Churchill, though, but something heavier odder; they had the surrealism ponderous, didactic symbolism of Eastern European poster art, and Kevorkian's obsessions—death and suffering—were everywhere:
During his prison years, Kevorkian published an anthology called glimmerIQs: A Florilegium, which compiled his serial limericks, philosophical manifestos and scientific treaties, reproductions of his paintings, and even handwriting samples and a natal chart, in case anyone wished to analyze him astrologically. In a chapter called "On Art," Kevorkian rhymes:

The subjects of art should be more
Than the aspects of life we adore;
Because dark sides abound,
Surreal paintings profound
May help change a few things we abhor.
Kevorkian's artworks are on display at the Armenian Library and Museum of America in Watertown, Massachusetts.
There are no comments yet on "Jack Kevorkian, painter"