Posts matching tags 'atari 2600'
2006/2/2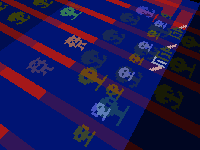 Some hackers have has wired up an Atari 2600 emulator to Max/MSP/Jitter, ending up with a virtual Atari 2600 whose circuitry can be manipulated in lots of ways, creating weird and nifty visual effects:
The pixels rendered by the Atari 2600 emulator can now be treated as matrix data by Jitter. So, the game screen can be moved about in 3D space, stretched, and mapped to various types of surfaces (a sphere, for example).
Embedded within the Max/MSP programming environment, these manipulation parameters can be changed in relation to a signal, directly tied to music played through MSP.
It also means that a nearly unlimited number of manipulations can be done at the emulation level. Memory accesses can be visualized (including both RAM and ROM), colors manipulated, and synchronization signals tweaked.
Of course, it is only usable if you have Max/MSP and Jitter (which cost a lot of money); though perhaps someone will do something like this for
Pd
?
(via Make) ¶ art atari 2600 circuit-bending digital art hacks max/msp
2005/11/8
An article looking at the console games scene in Brazil, where due to a number of factors, old systems killed off as obsolete in McWorld enjoy a new lease of life, and/or a freaky Frankensteinian afterlife:
Not only did Brazil embrace this marvel in video game history, but an increasing number of pirate consoles began appearing with additional features in an effort to beat the abundant competition. To differentiate between the two largest consumer bases, America and Japan, Nintendo had stemmed the import and export of games by employing different cartridge connections between the Famicom (Japanese version with a 60-pin connector) and the NES (American version with 72-pins). Since Brazil had never been properly established on Nintendo's world map, no marketing decision had been made to determine how sales would be controlled. Being stuck in the middle, with an increasing number of legal and illegal NES cartridges being shipped in from across the globe, clone consoles began appearing in Brazil with two connectors to accept either of the formats. On top of that, some pirate cartridge manufacturers began turning out double-ended casings, with 60-pins at one end and 72 on the other! Many of the NES and 2600 clones, still available today, even come with a multitude of games built into the system.
The Master System (Sega's challenge to the NES) and the Mega Drive landed in Brazil about the same time, where the systems were licensed to a local manufacturer. They were already due for replacement across the rest of the world, so Sega wisely allowed their licensee more freedom for internal development than was usually permitted. This has kept cloning and piracy of Sega products to almost nonexistent levels throughout South America. The entire range of Sega consoles are still in manufacture today - the only region in the world where Sega is still selling hardware - while sales of the Playstation 2 and Xbox are noticeable only by their absence.
The article is from a publication known as The Escapist, which uses somewhat annoying stylesheets and JavaScript navigation and requires a rather wide browser window. Though it certainly looks pretty.
(via bOING bOING) ¶ 0
2003/2/24
Atari 2600 retro fan site Stick It In The Slot has a list of the best games you never heard of, with the stories and full-colour screenshots of rarities like Peabo Bryson's Cow Tipper, Kramer vs. Kramer, Mrs. Paul's Fish Stick Hunter and not one but two games named Space Cobbler.
2002/8/4
This looks doovy: One enterprising hacker has developed an Atari 2600-based musical instrument cartridge. The Synthcart has beats and arpeggiators, and can be operated without a TV. Wonder how long until we see Ataris take the stage next to circuit-bent Hello Kitty toys and GameBoys running NanoLoop. (via Slashdot)
2002/7/28
These people sell modern PCs retrofitted into old Amiga 1000, Atari 2600 and Nintendo Entertainment System cases. And they come with emulators for the original machines. (Except that the PC's disk drive, of course, won't read Amiga floppies, and I doubt that they've interfaced the cartridge ports on the Atari and NES cases to the emulator software. If they had, it'd be pretty doovy.) (via Slashdot)