Posts matching tags 'barack obama'
2012/11/8
America's progressives are celebrating, and the rest of the world breathing a collective sigh of relief, as Barack Obama retains the presidency. Obama beat off a challenge from a radicalised Republican Party, so drunk on rage, xenophobia and the heady vapours of Fox News' propaganda that at one point they made whether one is for or against rape into a political litmus test issue. The Republicans, taken over largely by angry old white men fearful of their country being taken over by people unlike them, fielded an entire circus of freakishly hardline candidates (whom they referred to, in what could only be euphemism, as "conservatives") before settling on Mitt Romney, a billionaire corporate raider of exceptional moral flexibility, whose talents enabled him to repudiate his formerly moderate views and set his guns on Obama's health care law, despite having created the state law which inspired it. In the end, Romney failed to inspire, and so the lesser evil won. To be fair, Obama the lesser evil by a sizeable margin, though in a two-party state as big as the US, there is no way he could be anything but the lesser evil by definition.
And a few more interesting odds and ends about the election and its aftermath:
Time Magazine has a piece on the Obama campaign's impressive data-mining operation; it seems that everything, from fundraising to campaign advertising, was instrumented, measured and tested and had the hell analysed out of it, almost as if it were a Google product.
How the Republicans blinded themselves to what was actually happening by virtue of smoking the heady opiates of conspiracy theory and self-delusion:

Before rank-and-file conservatives ask, "What went wrong?", they should ask themselves a question every bit as important: "Why were we the last to realize that things were going wrong for us?"

In conservative fantasy-land, Richard Nixon was a champion of ideological conservatism, tax cuts are the only way to raise revenue, adding neoconservatives to a foreign-policy team reassures American voters, Benghazi was a winning campaign issue, Clint Eastwood's convention speech was a brilliant triumph, and Obama's America is a place where black kids can beat up white kids with impunity. Most conservative pundits know better than this nonsense -- not that they speak up against it. They see criticizing their own side as a sign of disloyalty. I see a coalition that has lost all perspective, partly because there's no cost to broadcasting or publishing inane bullshit. In fact, it's often very profitable. A lot of cynical people have gotten rich broadcasting and publishing red meat for movement conservative consumption.

I wonder whether the Republicans will engage with mainstream reality more, or whether they'll reach for the comforting crystal meth of Fox News to help pick themselves up.
And the fallout from the US Right continues: Donald Trump calls for a revolution and others call for a third party to arise, obviously not having thought that hard about the brutally unforgiving mathematics of a first-past-the-post electoral system.
Obama's victory has also been a victory for progressive politics in the US: Four states voted to legalise gay marriage, and Wisconsin elected the US's first openly lesbian senator. Meanwhile, Colorado voted to legalise recreational marijuana consumption. Not medical marijuana with its inherent rationalisations, but smoking pot to get high. Of course, the federal government is likely to smack this down, and it'll probably go through the courts for some time, but it could be a big crack in the War On Drugs. On the flipside, the two Republican senatorial candidates who spoke out in favour of rape were soundly defeated, hopefully burying that particular unpleasant lunacy once and for all.
Speaking of the courts, one of the side-effects of Obama's win is that the task of appointing at least one Supreme Court justice, and possibly as many as three, is likely to fall to him, meaning that the Supreme Court may well shift in a more progressive direction.
Had America's Muslims voted as they did in 2000, Romney would have won; I wonder what happened...
And then there's that teenage girl in Georgia who, if Obama won, threatened to move to Australia, which has a Christian president (sort of like the Mormon Mitt Romney and unlike the Christian Barack Obama then?). To be fair, one can forgive a teenager in Georgia for not knowing that Tony Abbott's title is "PM-in-waiting".
Of course, winning the election is one thing: the Republicans still control the House of Representatives, and will do so until 2014. If they remain as intransigent as they were after 2010, Obama may have trouble actually governing at all, and
the fallout of their dispute could threaten the global economy
. Though given that they are next to face the unsympathetic eyes of a disenchanted electorate, who rejected the hard line of the Tea Party, perhaps there'll be more of an incentive not to foul things up too badly.
¶ barack obama politics rightwingers schadenfreude usa war on drugs
2009/10/9
Less than a year into his first term, President Barack Obama has won the 2009 Nobel Peace Prize, essentially for not being a douchebag ("his extraordinary efforts to strengthen international diplomacy and co-operation between peoples"). Which suggests that expectations of what the US President is meant to do on the world stage have fallen so far in the past eight years that the rest of the world is jubilant when he doesn't just growl and shake his fists at everyone else.
2009/4/17
In the US, President Obama has announced plans to build high-speed railway systems. It won't be one national high-speed railway, but rather a pot of money and a series of proposed high-speed rail corridors (some of which already have planned projects, such as the Californian system which passed the ballot in the last election). There is only $8Bn to spend, and the "high speed" trains are cited at running at up to 240km/h (i.e., somewhat faster than a British Rail InterCity 125 on a straight stretch of track, but not quite up there with the Shinkansen), but it is a start.
His strategy envisions a network of short-haul and long-haul corridors of up to 600 miles, with trains capable of speeds of up to 150mph (240km/h).
He said: "Our highways are clogged with traffic, costing us $80 billion a year in lost productivity and wasted fuel.
"Our airports are choked with increased loads. We're at the mercy of fluctuating gas prices all too often," he said.
The corridors proposed include one in the Pacific Northwest (running from Oregon to Seattle, and possibly into Canada; I hope that they put passport control in the stations, as on the Eurostar, rather than stopping it for an hour or so at the border to process everyone onboard), a Chicago-centric system stretching to Minneapolis, Detroit, Kentucky and Ohio, and corridors potentially running from Texas, through New Orleans, Atlanta and the Carolinas, and into Washington. The full text of the speech is
here
.
2009/3/23
On his recent trip to Washington, British PM Gordon Brown gave President Obama a penholder carved from the timbers of the sister ship of the one whose wood formed the desk of the Oval Office. In return, Obama gave Brown a box set of classic American films, seemingly not realising that Brown can't actually watch them because they're Region 1, and Number 10's amenities presumably don't extend to a £20 off-brand multi-region DVD player. And, of course, with both Brown and Obama being obliged to give lip service to maximalist interpretations of copyright laws, neither could publicly condone circumventing lawful restrictions such as DVD region coding. Oops!
Jeremy Clarkson, meanwhile, has a rather witty take on it, which turns into a rubbishing of the unequal terms of Britain's "special relationship" with the US:
Gordon gave Obama Barrack a penholder carved from the timbers of an antislavery ship. The sister ship, in fact, of the one that was broken up and turned into the desk in the Oval Office. Barrack, meanwhile, gave Brown The Graduate on DVD. Which smacks of an "Oh, Christ. What shall we get him?" moment at the local petrol station.
2009/1/22
On his first day in office, President Obama has hit the ground running:
Addressing assembled White House staff, he said he had been inspired by the estimated two million who gathered to watch him being sworn in. He told staff he expected a higher ethical code at the White House than had existed under his predecessor, and issued executive orders imposing strict rules governing dealings with Washington's lobbyists. "Transparency and the rule of law will be the touchstones of this presidency," he said.
He also issued a pay freeze on staff earning more than $100,000. "Families are tightening their belts and so should Washington," he said.
In two other executive orders, he is to ban torture by all US personnel and initiate a review of the cases of all those still held at Guantánamo. He ordered judges to suspend trials under way there.
Obama also issued a draft executive order to close the Guantánamo prison within a year and offered to negotiate with Iran with no preconditions.
2009/1/21
In today's big surprise: apparently the Chinese government censored local broadcasts of Obama's inaugural address, excising mentions of America facing down communism and condemnation of regimes that silence dissent.
Meanwhile, Patrick Farley (of the excellent E-Sheep Comics) has written up a summary of the Bush era: All Circus, No Bread:
Trying to explain what was wrong with the Bush Era feels like trying to vomit up a cannonball. I don't think my jaw can stretch that wide.
Seriously, where does one even begin? Abu Ghraib? Ahmed Chalabi? Mission Accomplished? The "Battle of Iraq?" Valerie Plame? No-bid contracts? The billions of dollars the Pentagon can't account for, and apparently never will? The Department of Justice firings? The blue Iraqi flag? The staged press conference? The fake Thanksgiving turkey? Terry Schiavo? Freedom Fries?
All my life I've heard Baby Boomers bitching about Nixon, even after he was dead. I used to wish they'd just GET OVER IT, but now I understand their bitterness. It wasn't what Nixon did that infuriated them so much. It's what he got away with. Nixon was nudged out of office by a momentary gust of public disfavor over a botched burglary attempt -- not, say, a Congressional investigation into the bombing of Cambodia. There was never a thorough reckoning of the misdeeds of Nixon's White House, just as there will probably never be a full accounting of the perversions and swindles of Bush's presidency. To the majority of Americans, Bush will be that guy who invaded Iraq and wrecked the economy.
And US liberal cartoonist Tom Tomorrow
has his own farewell salute to Bush and cronies
:
2009/1/20
President Barack Obama has been sworn in, and the door swings closed on the Bush era (and good riddance too).
For what it's worth, here is the text of Obama's inaugural address (thanks to metaphorge), excoriating the ideas of the Bush era and outlining in fine words his vision for the next four years:
That we are in the midst of crisis is now well understood. Our nation is at war, against a far-reaching network of violence and hatred. Our economy is badly weakened, a consequence of greed and irresponsibility on the part of some, but also our collective failure to make hard choices and prepare the nation for a new age. Homes have been lost; jobs shed; businesses shuttered. Our health care is too costly; our schools fail too many; and each day brings further evidence that the ways we use energy strengthen our adversaries and threaten our planet.
For everywhere we look, there is work to be done. The state of the economy calls for action, bold and swift, and we will act - not only to create new jobs, but to lay a new foundation for growth. We will build the roads and bridges, the electric grids and digital lines that feed our commerce and bind us together. We will restore science to its rightful place, and wield technology's wonders to raise health care's quality and lower its cost. We will harness the sun and the winds and the soil to fuel our cars and run our factories. And we will transform our schools and colleges and universities to meet the demands of a new age. All this we can do. And all this we will do.
To those leaders around the globe who seek to sow conflict, or blame their society's ills on the West - know that your people will judge you on what you can build, not what you destroy. To those who cling to power through corruption and deceit and the silencing of dissent, know that you are on the wrong side of history; but that we will extend a hand if you are willing to unclench your fist.
Also, for perhaps the first time, Obama explicitly includes atheists and nonbelievers in the idea of America in his speech, arguably the highest-profile inclusion of atheism since the McCarthy-era administration put "In God We Trust" on the dollar.
For we know that our patchwork heritage is a strength, not a weakness. We are a nation of Christians and Muslims, Jews and Hindus - and non-believers.
Were I American, I would be pretty proud of my country now. Though, of course, fine words butter no parsnips, and Obama will be judged on his deeds. Still, at the very worst, he will be a stellar improvement over Bush.
Update: The inestimable Mr. Frogworth informs me that, right on cue, whitehouse.gov has been replaced with a newer model. The new, Obama-era site has a blog, with an actual RSS feed, though only headings on the front page. Though more Presidential use of new media is promised:
Transparency -- President Obama has committed to making his administration the most open and transparent in history, and WhiteHouse.gov will play a major role in delivering on that promise. The President's executive orders and proclamations will be published for everyone to review, and that's just the beginning of our efforts to provide a window for all Americans into the business of the government. You can also learn about some of the senior leadership in the new administration and about the President's policy priorities.
Participation -- President Obama started his career as a community organizer on the South Side of Chicago, where he saw firsthand what people can do when they come together for a common cause. Citizen participation will be a priority for the Administration, and the internet will play an important role in that. One significant addition to WhiteHouse.gov reflects a campaign promise from the President: we will publish all non-emergency legislation to the website for five days, and allow the public to review and comment before the President signs it.
If the Whitehouse sticks to these plans, this will be a bold precedent for democracy in the age of post-broadcast media, and one which other democracies will sooner or later have to follow.
2008/12/27
A group calling itself Sense About Science, and dedicated to combatting scientific illiteracy, has published its review of scientifically illiterate statements made by celebrities in 2008. There were the usual one might expect (Tom Cruise's views on psychiatry, various others' advocacy of dubious "detox diets" and similar quackery), along with some real humdingers:
Sarah Palin, Mr McCain's running mate, waded into the mire with her dismissal of some government research projects. "Sometimes these dollars go to projects that have little or nothing to do with the public good. Things like fruit fly research in Paris, France. I kid you not," Ms Palin said. But the geneticist Ellen Solomon takes Ms Palin to task for not understanding the importance of studies into fruit flies, which share roughly half their genes with humans. "They have been used for more than a century to understand how genes work, which has implications in, for example, understanding the ageing process," she said.
Mind you, even the stupendously awesome Barack Obama (who, it must be said, has been recruiting sound scientific thinkers to his cabinet) is taken to task for suggesting that there may be a link between MMR vaccines and autism, which, according to Ben Goldacre, has been thoroughly discredited.
2008/11/7
2008/11/5
Barack Obama wins the US Presidency, by a landslide. The electoral college vote count currently stands at 349 to McCain's 162, with several states still in doubt. The Democrats also have gained seats in the Senate, though appear to fall short of a "supermajority", which would make them unbeatable.
One shouldn't be too hopeful; Obama is, after all, a politician and a pragmatic centrist (unless you're a FOXNews commentator, in which case he's the Antichrist and Fidel Castro rolled into one). His victory isn't going to bring free ice-cream and ponies for everyone, turn America into Sweden, or magic away all the problems that have been building up. And there are a lot of problems: the Bush administrations have wiped out America's reserves of money (turning Clinton's surpluses to a record-breaking deficit), public image and good will, and left an Augean stable overflowing with shit. The incoming President's labours will truly be Herculaean.
Having said that, there is reason to be optimistic, because, after eight years, America will have a president who's forward-looking, pragmatic and competent. Actually, even if he's merely competent and not too crooked, that will be a tremendous improvement over the Bush era. I don't expect profound transformations, though it looks like Obama will move things along in the right direction.
And then there's the fact that America elected a black president by a huge margin. The feared "Bradley effect" (voters telling pollsters they'd vote for Obama but not actually doing so due to racism) failed to materialise. This is about change, but more a confirmation of change that has happened. (Remember when, in the 1990s, Bill Clinton was hailed as "the first black President"? Doesn't that now seem like a cringeworthy relic of a more bigoted age, like lawn-negro statues and actors in blackface makeup? And so, the age of grunge and the WIRED Long Boom is now consigned to the dusty museum of the more-racist past.) The psychological and cultural effects of this (and, it must be said to give credit where it's due, of Bush's appointment of Condoleezza Rice and Colin Powell, though this takes it to a new level) on issues race in America could be profound. Today's young Afro-Americans can aspire to be President (traditionally the whitest of posts), which could be a death blow for the belief that certain forms of success are too "white" to countenance and constitute "selling out".
Now let's just hope that nobody manages to assassinate Obama; given some of the vitriol seen during the campaign, it's a worrying possibility.
2008/8/15
US Republican electoral strategists' latest tactic against Barack Obama: ads that insinuate that he is the Antichrist, in the hope of getting evangelical Christian voters out to vote for McCain. They're careful not to say outright that Obama is the Antichrist, of course, as that would make them look like lunatics to non-Evangelical voters. Rather, the ad (titled "the One") has an innocuous surface message, ostensibly poking fun at Obama's messianic image, though is peppered with coded references to popular American Christian thriller series Left Behind:
As the ad begins, the words "It should be known that in 2008 the world shall be blessed. They will call him The One" flash across the screen. The Antichrist of the Left Behind books is a charismatic young political leader named Nicolae Carpathia who founds the One World religion (slogan: "We Are God") and promises to heal the world after a time of deep division. One of several Obama clips in the ad features the Senator saying, "A nation healed, a world repaired. We are the ones that we've been waiting for."
Sapp knows that the phrasing and images could just be dismissed as a peculiar coincidence. After all, it was Oprah Winfrey who told an Iowa crowd that Obama was "the one!" But, he insists, "the frequency of these images and references don't make any sense unless you're trying to send the message that Obama could be the Antichrist." Mara Vanderslice, another Democratic consultant, who handled religious outreach for the 2004 Kerry campaign, agrees. "If they wanted to be funny, if they really wanted to play up the idea that Obama thinks he's the Second Coming, there were better ways to do it," she says. "Why use these awkward lines like, 'And the world will receive his blessings'?"
It's not hard to see how some Obama haters might be tempted to make the comparison. In the Left Behind books, Carpathia is a junior Senator who speaks several languages, is beloved by people around the world and fawned over by a press corps that cannot see his evil nature, and rises to absurd prominence after delivering just one major speech. Hmmh. But serious Antichrist theorists don't stop there. Everything from Obama's left-handedness to his positive rhetoric to his appearance on the cover of this magazine has been cited as evidence of his true identity. One chain e-mail claims that the Antichrist was prophesied to be "A man in his 40s of MUSLIM descent," which would indeed sound ominous if not for the fact that the Book of Revelation was written at least 400 years before the birth of Islam.
Which sounds like a textbook case of dog-whistle politics. Speaking of which, has anybody seen Lynton Crosby recently?
(via Mind Hacks) ¶ 3
2008/5/14
Things __ People Like + Democrat sympathies = Things younger than Republican Presidential candidate John McCain. Includes entries for things like nylon, Helvetica, The Grapes of Wrath, the Golden Gate Bridge, Kodachrome, both of Barack Obama's parents and various other notably old and cranky politicians.
And, via the Helvetica entry, various designers weigh in on McCain's use of the Optima typeface. The usual things come up (Optima being a bet-hedging typeface, the use of a bold weight outweighing any elitist connotations of the regular weight, Optima's association with the dental profession, and, of course, its resemblance to the inscriptions on the Vietnam War Memorial), but most interesting was type designer Matthew Carter's claim on how Optima McCain's choice of running mates:
I set the possible names in a bold weight of Optima caps and certain things became clear. HUCKABEE looks awkward in Optima, and ROMNEY is afflicted with the same difficult 'EY' combination that has plagued the current vice presidency. Perhaps because Optima is a German typeface, the word SCHWARZENEGGER looks predictably good.
Although it's German, Optima took its inspiration from Quattrocento inscriptional lettering in the cathedrals of Florence and Siena, which may explain why GIULIANI looks so simpatico. In the end, however, my research suggests that the optimal running mate — so long as you don't have to typeset her first name — is RICE.
Is typography destiny?
2008/4/1
In US presidential elections, as in any mass-marketing exercise, typography and design are important.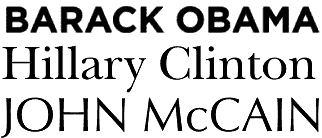 Most go for safely conservative, focus-grouped choices; Hillary Clinton has gone for New Baskerville, a typeface seemingly designed for hardcover self-help books and suburban real-estate agencies' signs. (The latter association may not be the most prudent, with the subprime crisis.) Republican war-hero John McCain has gone for Optima, which, coincidentally or not, is the typeface used on the Vietnam War Memorial in Washington DC. Both typefaces are decades old (and New Baskerville is based on 18th-century English book type), and published by huge type foundries that predate the computer age.
Barack Obama, however, has broken away from the typographical consensus, and gone for a new font named Gotham. Designed by Tobias Frere-Jones starting in 2000 and based on examples of vernacular signage and lettering, Gotham evokes the classic yet forward-looking appearance of 1930s modernism. And the Obama campaign's adoption of it has led some to call it the hot font of 2008:
Though a discussion of fonts may seem obscure, anyone who has agonised over the look of a wedding invitation or sweated over a resume knows that the shape of letters can say nearly as much about a person as the words they spell out. And in the computer age, the message conveyed by a font is no longer subliminal. It's overt.
2008/2/5