Posts matching tags 'burma'
2012/3/18
Following the recent Spiegel piece on punk rock and dissent in Burma, music journalist John Harris has an article on parts of the world where punk and its offshoots are still dangerous:
It's been a long time since the term "punk rock" could strike fear into the British establishment. The Sex Pistols' John Lydon – aka Johnny Rotten – was long ago transformed into a pantomimic national institution, and now advertises Country Life butter; it's 16 years since Tony Blair admiringly mentioned the Clash in a speech at the Brit awards. The spiky-topped punk look is as harmless a part of vernacular British style as Harris tweed; the concert nostalgia circuit is now home to any number of ageing punk groups, from the Buzzcocks to Sham 69.
The last few months, however, have brought news from abroad suggesting that in many places, punk's combination of splenetic dissent, loud guitars and outre attire can cause as much disquiet and outrage as ever. The stories concerned take in Indonesia, Burma, Iraq and Russia – and most highlight one big difference between the hoo-hah kicked up by punk in the US and Britain of the late 70s, and the reactions it now stirs thousands of miles from its places of birth. Back then, being a punk rocker might invite occasional attacks in the street, a ban on your records, and the odd difficulty finding somewhere to play. Now, if you pursue a love of punk in the wrong political circumstances, you may well experience oppression at its most brutal: torture, imprisonment, what one regime calls "moral rehabilitation" and even death.
The ways that punk-influenced subcultures are colliding with the local establishments differ for each place. In Iraq, Islamists are stoning youths to death for wearing clothes and haircuts associated with "emo" (which originated as an offshoot of DC hardcore punk, though in the affluent first world, has long since degenerated into Hot Topic merchandise lines and highly commercial bands making whimpering songs complaining about girls not putting out, Fake Emo having displaced Fake Goth as the bad joke of teenage angst some time in the 00s). In Iraq, however, emo is still seen as a threat to Islamic values and traditional norms of masculinity:
One thing is definitely true: figures for emo-related killings are blurring into those for homophobic murders (put at up to 58 in the last six weeks alone), reflecting a widespread perception in Iraq that emo is a byword not just for devil-worship, but homosexuality. A leaflet distributed in east Baghdad gave any local emo fans four days to "leave this filthy work", under pain of "the punishment of God … at the hand of the Mujahideen". At least two lists of intended victims have been posted online, and tattoo parlours in the city have reported terrified young people asking for their punk-esque body-art to be removed.
Hard rock and the Islamic world have come into collision before: Malaysia reportedly had its own issue with "Satanist" heavy-metal fans, and in Indonesia's conservative Aceh province, officials detained punk rock fans at an event, shaved their heads and subjected them to "moral reeducation". This action, intended as a show of strength by local political figures, resulted in protests outside Indonesian embassies across the world.
There are, he tells me, two kinds of punk in Indonesia. "One is what we think of as a poser: they adopt punk fashions." This group, he says, tend to be "street kids" who fall into begging and petty crime, and thereby provoke the authorities. "The other punks are part of a community that has developed since the late 80s – a moral, ideological type of community," he says. "They're totally different. But the government and society thinks that if you have a Mohawk and boots, you are a punk, and all punks are the same." The kids arrested in Aceh, he thinks, are likely to be the genuine article, because they were arrested at a gig, a reasonably sure sign of true believers.
Meanwhile, in Russia, a feminist punk movement influenced by riot grrrl is forming part of the growing resistance to the Putin regime, the ex-KGB
siloviki
and the oligarchs, and their plans for a tightly managed democracy:
In Moscow, a court ruling on Wednesday marked the latest chapter in the story of an all-female band called Pussy Riot, two of whom were arrested last month after they illicitly took over the pulpit in a Moscow church, and attempted to recite a "punk prayer" written in opposition to Vladimir Putin. Pussy Riot's music is scratchy, unhinged stuff that takes its lead from a fleeting genre known as riot grrrl – once again traceable, at least in part, to Washington DC, and brought to fruition nearly 20 years ago by such groups as Bikini Kill, and a British band called Huggy Bear. Their music was clearly derived from punk's basic idea, but took its lead from such feminist groups as the Slits and the Au Pairs rather than the Clash and the Pistols: apart from anything else, the controversy around Pussy Riot has at least served as a reminder of this overlooked strand of punk history.
"We somehow developed what [those groups] did in the 1990s, although in an absolutely different context and with an exaggerated political stance," one band member called Garadzha Matveyeva has explained, "which leads to all of our performances being illegal – we'll never give a gig in a club or in any special musical space. That's an important principle for us." The band, who always perform in identity-concealing balaclavas, has a free-floating membership that can number up to 15 people – it amounts to "a pulsating and growing body", as Matveyeva sees it.
In all these cases, the common theme is how punk, a dated subculture of generational rebellion, now often reduced to a grab-bag of clichés and commodified kitsch, has come to signify vastly more in considerably more desperate straits, without losing the decidedly foreign and awkwardly specific semiotics of someone else's adolescent rebellion in a distant country, long ago. So the image of punk comes, mediated via layers of marketing, commodification and nostalgia, to the developing world, where a Burmese dissident finds a copy of NME with a heritage-rock cover in the bins of the British Embassy, or an Iraqi teenager sees a Fall Out Boy video on a satellite video channel, and a chimera is born:
"You hear a lot about the clash of civilizations," [Ole Reitov, of Copenhagen-based freedom-of-expression advocacy group Freemuse] tells me, "but often, these things, they reflect a clash within civilizations. You're seeing the same symptoms in all kinds of countries: it's a matter of what you do if you feel you're powerless. You can only be extreme, relative to so-called normality. He thinks all this will only increase given two parallel developments: the rise of religious fundamentalism, and the increase in networked communications, which means that every aspect of a subculture can be globally spread at speed. "Think back 50 years," he says. "People didn't necessarily know what the Shadows or the Beatles looked like. These days, you immediately know. Someone in Ulan Bator immediately knows the body language that comes with rap music; in Iraq, the young people who've been killed knew how to dress a certain way."
¶ burma culture emo globalisation heritage rock indonesia iraq media punk riot grrl russia
2012/2/25
While punk rock may be just another retro lifestyle brand in the West, in some parts of the world, it still means something; perhaps nowhere more so than Burma, a police state ruled with an iron fist by a military dictatorship.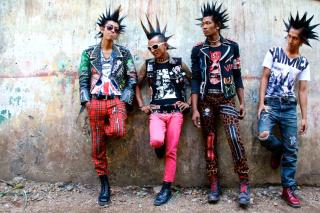 Punk arrived in Burma on cassettes smuggled in by sailors, and soon struck a chord with a young generation who had seen their future smashed under the fist of the state; as the junta cracked down on the "Saffron Revolution" which had been led by Buddhist monks, Burmese youth found a voice in its fiery rage, and soon adopted the semiotics of punk, born in remote 1970s London and New York, as banners of their anger at the state.
In Burma, punk is far more than just a superficial copy of its Western counterpart. Here, what is probably the most rebellious of all subcultures in the Southeast Asian country is going up against one of the world's most authoritarian regimes. Punk gives young Burmese a chance to symbolically spit in the face of the hated government, which took power in 2010 in the wake of what was widely considered a fraudulent election.
"The government keeps the people in poverty," says a 30-year-old who goes by the name of Scum, spitting on the ground. "It's a daily struggle just to get by." Protests are rarely possible, he says. Scum is one of the leaders of Rangoon's punk scene. He is sitting on a tattered sofa, the only piece of furniture in his narrow one-room apartment. Dirty dishes are piled up on the floor. In the corner, there's a box with English-language books. Scum studied literature, but now he makes a paltry income selling tickets for an illegal lottery. He refuses to have a legal job because he says it "would only be supporting the government."
Ko Nyan organizes most of these punk concerts. The 38-year-old makes a living selling punk T-shirts and CDs at a market stand in Rangoon. He is also one of Burma's original punks. In the mid 1990s, he read an article about the Sex Pistols, the legendary British punk band, in a music magazine he fished out of the British Embassy's garbage. Ko and his friends try to imitate the look of the musicians they saw, which comes as a shock to their countrymen. "When we walk through the market, everyone just stops and stares at us," he says. "They have no idea what punk is and just think we are crazy."
What's interesting to me is how Burma's angry youth have taken a foreign cultural phenomenon (and one now confined to the cozy past in its country of origin; there's even
a punk rock compilation from the National Trust
for visiting Anglophiles to take home alongside their diecast model Routemaster bus and Kate and Wills teacups) and repurposed it into something new
without changing its outward appearance
. Looking at the attire of the punk scene members in
the photo gallery
accompanying the article, there are few if any references to Burma, its culture or politics; instead, one sees English-language slogans and band names of the sort one could find at a stall in Camden Market, as well as meticulously assembled collections of studded leather jackets and tartan bondage trousers. (One of the interviewees recounts working for a year in a textile factory to buy his leather jacket; upon reading this it is tempting to contemplate the exquisitely ironic possibility that similar factories were making Sex Pistols T-shirts for export to teen boutiques in the West.) Yet
another young punk wears a vest printed simply with the Union Jack
, a provocative symbol lobbed with weaponised irony in the malaise of 1970s Britain, though in Burma (a former British colony), I imagine its connotations would be quite different. And yet, the gravitas of Burma's situation takes these acts of almost cargo-cultish copyism and imbues them with a fresh radical meaning.
2002/9/15
A look at Burma's burgeoning rock scene, where bands with metal-sounding names like Iron Cross and Emperor perform Beatles covers and country & western numbers. Isolated totalitarian states sure are weird places.