Posts matching tags 'cartoons'
2012/1/4
Legendary British cartoonist Ronald Searle has passed away, aged 91. Searle had survived imprisonment in horrific conditions by the Japanese army on the Burma Railway (a fellow prisoner remarked that one would only know that he was dead if he stopped drawing) and went on to an illustrious career, creating the St. Trinian's books and the tales of the grotesque, recalcitrant schoolboy Molesworth, and also drawing for publications including Punch, Le Monde and Le Figaro. Searle apparently kept drawing right up to the end. His friend, the cartoonist Gerald Scarfe (whom you may know from his work on Pink Floyd's The Wall) has a eulogy:
Ronald had a wonderfully dry sense of humour. Once a year, he would pay the restaurant with a picture: pigs going into the kitchen looking doubtful, or snails crawling on to people's plates. We would always find pictures waiting for us at the table: Jane would have a drawing of a cat wearing a ballerina's outfit or putting lipstick on in front of a mirror; and I would have a bearded, scruffy cat, scratching his head, pens and paper laid out, waiting for his cartoon to come.
There's a gallery of images
here
and another, of drawings he made for his wife during her illness,
here
.
¶ art cartoons obituary rip ronald searle
2010/8/24
Twaggies posts regular illustrations based on public Twitter posts:

Note that earlier Twaggies are somewhat more crudely illustrated, in a MSPaint web-grunge style, and a bit more acerbic than poignant:

(via Boing Boing) ¶ 0
2010/8/9
New York Times illustrator Christoph Niemann recently flew from New York to Berlin, and spent the flight illustrating his experience. I imagine anyone who has ever taken a long-haul economy-class flight will identify with it:

2010/4/24
2010/4/7
The Independent has a pretty apt cartoon about the general election campaign that has just begun in the UK:

2008/10/16
Artist/culture jammer Jimmy Cauty's latest project: horrifically gory versions of classic animated cartoon cels:

(via Boing Boing) ¶ 1
2008/8/27
There is a tradition of restaurants serving meat having happy anthropomorphic cartoons of the animals whose meat they serve as their mascots. Of these mascots, there is a subset in which the animals actually slaughter or eat their own kind, usually with great gusto. There's a set of such logos here:
(via Boing Boing) ¶ 1
2007/3/7
A 1939 magazine article about the censorship of animated cartoons, and exactly the sorts of things the Hays Office (which handled film censorship in the U.S. at the time) demanded cut from cartoons. For example, a cartoon cow was made to wear a skirt covering its udders, a sombrero-wearing bandit is required to end up in jail (crime, you see, must unambiguously be seen to not pay), and a scene with a stereotypical black (as in African-American) angel placing pushpins on a globe labelled "Harlem" and mentioning "De Lawd" had to be altered, not because of the racial stereotypes (which, in 1939, were perfectly fine) but because it was considered too sacrilegious.
It's interesting to note that the article states at the beginning that animated cartoons were subjected to stricter censorship regulations than live-action films because it was assumed that anything animated was for children, who needed to be protected. Similar justifications were used for comic books (with the Comics Code, which was in force until publishers started ignoring it in the 1960s or so, and had similarly puritanical scope), and in current video game censorship in Australia.
(via Boing Boing) ¶ 0
2006/1/19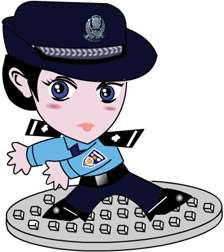 China's pervasive internet surveillance regime now has a new public image: from now on, either various government sites or all websites in Shenzhen will display cartoon mascots of police officers (looking big-eyed and oddly Caucasian). Clicking on the mascots will take you to a web page where you can talk with actual members of China's internet police. They do things differently in China.
(via bOING bOING) ¶ 0
2006/1/4
Village Voice cartoonist Ward Sutton presents his Person of the Year: Joe Smith: common man, regular guy:
(via
substitute) ¶ 0
2002/8/18
2000/4/21
Four-fingered cartoon characters exported to Japan given a fifth finger -- as not to look like Yakuza members. (BBC News)