Posts matching tags 'electronic music'
2009/11/24
2008/12/15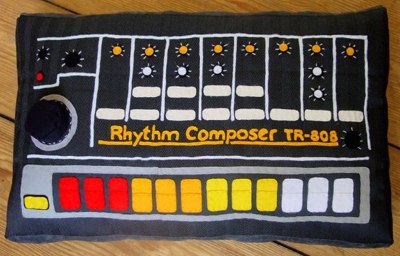 The Independent's Rhodri Marsden has an article about the Roland TR-808, the classic electronic drum machine which became a staple of everything from hip-hop to electronica, from post-punk rock to adult-oriented soft-soul, and now having lent its name to a Kanye West album (somewhat ironically, perhaps, as there is little evidence of any 808s having been used in the making of the album; those who bought it expecting to hear some sweet sidestick-and-cowbell action will probably have reason to be disappointed).
And once you know what you're listening out for, you'll hear the 808 on innumerable tracks. Unfortunately, one of its most widely heard manifestations is the cowbell effect that hammers away like a distressed woodpecker during "I Wanna Dance With Somebody" by Whitney Houston. "That noise is the bane of my life," says Simon Thornton, the producer of Fatboy Slim and countless other British dance acts over the past two decades. "It makes you wonder which person at Roland actually decided that it sounded any good."
But one man's trash is another man's treasure, and Jyoti Mishra, the self-confessed producer of "camp synth pop" and former singles chart-topping artist under the name White Town, considers the same noise to be iconic. "And so are the claves, and so are the handclaps. Of course, they don't sound like handclaps – but strangely, they have somehow become the sound of handclaps. Every drum machine produced since then has had to feature that same kind of noise."
By the mid 1980s, the 808 had helped rap artists such as Run DMC and the Beastie Boys to worldwide success – but it was also dusted off in studios to provide backing for more laidback tunes, such as Marvin Gaye's "Sexual Healing" and "One More Night" by Phil Collins. "I got mine in 1983," says Mishra, "and immediately loved it. And those things it was criticised for – the limitations of its built-in sounds – are what ended up making it so popular."
The 808 pillow in the photo, incidentally, has nothing to do with the article
per se
, but comes from
this article
.
2008/7/21
Jude Rogers writes in the Graun about Delia Derbyshire, pointing out that, for her achievements, she wasn't the only woman in early electronic music, not by far:
It's a myth that electronic music is a world populated by stiff-suited, horn-spectacled men, then – especially as Derbyshire wasn't the only female pioneer. Take Daphne Oram, who set up the Radiophonic Workshop in 1958. Last month, Goldsmiths College opened up a public archive of her music, and held a day celebrating her work at the South Bank. Then there's Maddelena Fagandini, who recorded under the fabulous pseudonym, Ray Cathode, and whose work was adored by Beatles producer George Martin. Later on, Glynis Jones created space soundtracks for the Workshop in the 1970s, and Elizabeth Parker was the last composer to leave it when it closed in 1998.