Posts matching tags 'glastonbury'
2008/12/29
Members of Glastonbury's New Age community are up in arms about the town's free WiFi network, which they say emits "negative energy", disrupting the flow of chakras and ley lines and causing all sorts of ailments from headaches and dizziness to pneumonia. Some are calling for the network to be dismantled, while others are using this as an opportunity to sell "orgone devices" which work, by means conveniently unknown to boring old straight science, to neutralise the bad vibes:
Matt Todd, who campaigns against EMFs, said that residents had complained that chakras and ley lines are being disrupted. "They believe positive energy flows are being disturbed," he said.
Mr Todd has started building small generators which he believes can neutralise the allegedly-harmful radiation using the principles of orgone science. The pyramid-like machines use quartz crystals, selenite (a clear form of the mineral gypsum), semi-precious lapis lazuli stones, gold leaf and copper coil to absorb and recycle the supposedly-negative energy.
One does wonder what happened when Glastonbury was first wired for mains electricity.
(via
substitute) ¶ glastonbury new age pseudoscience psychoceramics superstition wifi
2007/6/14
Banksy's latest opus is a replica of Stonehenge made of portable toilets, installed on the Glastonbury festival site: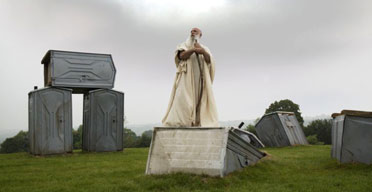 The artist, never shy of controversy, has raised some eyebrows with the location of the artwork in the "Sacred Space" field, venerated by the festival's more hippyish devotees. Banksy himself has no illusions about the sanctity of his work, however: "A lot of monuments are a bit rubbish," he said, "but this really is a pile of crap."
Is it just me, or is Banksy losing his edge? Offending a few hippies (a rather soft target) is not quite the same as taking on, say, Disney Corp., the state of Israel or the oppressive existence of police forces, and I suspect that his latest work wasn't dumped in the field in the dead of night, but probably arranged with the festival organisers to add some subversive cachet and/or appropriately edgy celebrity value to their event. Mind you, whether Banksy was ever really subversive is a matter for some contention; Charlie Brooker (who, with Chris Morris, incorporated aspects of Banksy into the Nathan Barley character) reckons that
this particular emperor never had any clothes
.
2006/11/22
Conservative Catholic youth flock to Glastonbury to "cleanse" it of its pagan influences.
Maya Pinder, the owner of the shop, said: "We've had to hear comments such as 'burn the witches', we've had salt thrown in our faces and at our shop, people were openly saying they were 'cleansing Glastonbury of paganism'.
"It was as if we had returned to the dark ages. This is hugely damaging to Glastonbury ... it is hard enough to trade in Glastonbury as it is, if you were to take away the pagan element it would be a dead town." The Somerset town is known for having a large population of resident and visiting pagans.
The Youth 2000 group, a conservative Catholic youth group which organised the pilgrimage, has publicly distanced itself from the incidents.