Posts matching tags 'hoxton'
2006/3/19
Found on Bowlie: a contemporary UK version of the infamous Hipster Bingo: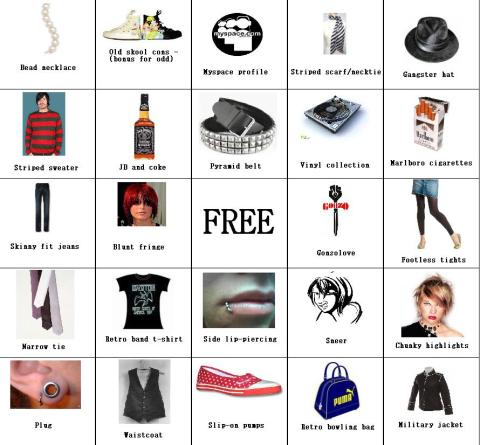 Perhaps someone should do a Melbourne version called "Coolsie Bingo"? I'd volunteer, but it'd be two years out of date.
(via Bowlie) ¶ hipster bingo hoxton shoreditch uk
2005/10/23
A copy of the Nathan Barley DVD showed up in the post today. At first glimpse, it's pretty good; it has the six episodes plus a variety of deleted scenes, galleries of much of the artwork (SugaRAPE covers, gig posters (the one with "DVD Pausing Wankers" or something similar was amusing) and mockups of T-shirts worn by fashion victims), and all the TV Go Home "Cunt" columns that gave rise to the Nathan Barley character. It didn't have a video of Bad Uncle or Flesh Police that I could find, but you can't have everything. And it did have some junkie-choir footage (of them doing a version of Grandmaster Flash's White Lines, like a Pete Doherty-fronted Polyphonic Spree) in the extras menus. There's also a Shockwave-ish DVD-ROM section, and it's all Region 0.
The DVD comes in a posterised, Designers Republic-referencing cover, the inside of which contains the disc and a small, thick black booklet:

Look familiar? Yes, they're ripping off the look of Banksy's
Banging Your Head Against A Brick Wall
and
Existencilism
(there's even a page with the heading "Websistentialism"), down to the cocky soundbites and autobiographical paragraphs in Courier. In fact, every page that's not comprised of material from the series is a textbook Banksyism. Not that they try in any way to hide this: