Posts matching tags 'julian assange'
2017/1/19
As one of his final official acts, US President Obama has commuted the prison sentence of Chelsea Manning, the former intelligence analyst who leaked classified video of drone pilots massacring civilians, to time served. Now all that Manning has to do is survive the next four months in prison under the total control of a fundamentally hostile administration and she'll be free. The usual hawks are apoplectic.
Of course, we have the selfless Julian Assange to thank for this; were it not for his pledge to surrender to extradition to the US in exchange for clemency for Manning, this may or may not have happened. Though now, Assange seems to be backing away from his commitments, saying that Obama's offer of clemency does not meet the conditions of his offer, in that Manning will not be released immediately. Perhaps he'll surrender in May, when Manning is scheduled to walk free; in which case, his sentence may be to play Robin to Rudolph Giuliani's Batman in the Trump administration's Department of Cyber; the job may involve taking orders from an 11-year-old "special advisor".
Pointedly left out of any option of clemency is, of course, Edward Snowden, the NSA leaker/hero-and/or-traitor currently holed up in Moscow. Russia has apparently extended his visa for another three years, though that could well be a feint, and he could be in restraints on a light plane to the US as an inauguration present. If he is convicted and the timings of the Julius and Ethel Rosenberg case are anything to go by, he would be likely to be executed in 2020, as the monster-truck-rally spectacle of Trump's second-term campaign cranks up, and as much heat and noise as possible is called for. Assange may find himself guest of honour at Snowden's execution, an invitation without the option of refusal, whose purpose will be to underscore the fact that he is not relieved of his obligations to his handlers, and that bad things happen to you if you cross Trump/Putin. (Later, rumours will emerge that the firing squad was ordered to aim at the wrong side of Snowden's chest, a death traditionally reserved for particularly unpopular deposed dictators in Latin America.)
¶ barack obama chelsea manning donald trump edward snowden julian assange usa wikileaks
2013/8/4
Bruce Sterling has written a witty and insightful essay about the NSA leaks and the Edward Snowden situation:
This is the kind of comedic situation that Russians find hilarious. I mean, sure it's plenty bad and all that, PRISM, XKeyScore, show trials, surveillance, threats to what's left of journalism, sure, I get all that, I'm properly concerned. None of that stops it from being hilarious.
Modern Russia is run entirely by spies. It's class rule by the "siloviki," it's Putin's "managed democracy." That's the end game for civil society when elections mean little or nothing, and intelligence services own the media, and also the oil. And that's groovy, sure, it's working out for them.
Citizens and rights have nothing to do with elite, covert technologies! The targets of surveillance are oblivious dorks, they're not even newbies! Even US Senators are decorative objects for the NSA. An American Senator knows as much about PRISM and XKeyScore as a troll-doll on the dashboard knows about internal combustion.
If you're a typical NSA geek, and you stare in all due horror at Julian, it's impossible not to recognize him as one of your own breed. He's got the math fixation, the stilted speech, the thousand-yard-stare, and even the private idiolect that somehow allows NSA guys to make up their own vocabulary whenever addressing Congress (who don't matter) and haranguing black-hat hacker security conventions (who obviously do).
The civil lib contingent here looks, if anything, even stupider than the US Senate Intelligence Oversight contingent — who have at least been paying lavishly to fund the NSA, and to invent a pet surveillance court for it, with secret laws. That silly Potemkin mechanism — it's like a cardboard steering wheel in the cockpit of a Predator drone.
And, yeah, by the way, Microsoft, Apple, Cisco, Google et al, they are all the blood brothers of Huawei in China — because they are intelligence assets posing as commercial operations. They are surveillance marketers. They give you free stuff in order to spy on you and pass that info along the value chain. Personal computers can have users, but social media has livestock.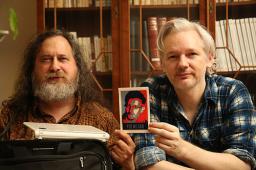 So, the truth is out there, but nobody's gonna clean up all that falsehood. There is no visible way to make a clean break with the gigantic, ongoing institutional deceits. There's no mechanism by which any such honesty could be imposed. It's like reforming polygamy in the Ottoman Empire.
People, you couldn't trust any of these three guys to go down to the corner grocery for a pack of cigarettes. Stallman would bring you tiny peat-pots of baby tobacco plants, then tell you to grow your own. Assange would buy the cigarettes, but smoke them all himself while coding up something unworkable. And Ed would set fire to himself, to prove to an innocent mankind that tobacco is a monstrous and cancerous evil that must be exposed at all costs.
2011/7/1
Australian playwright Ron Elisha has written a play about Julian Assange and the Wikileaks affair. The play, Stainless Steel Rat (named after an anarchist antihero devised by scifi author Harry Harrison, whose name Assange chose as his OKCupid and Couchsurfing pseudonym), is playing at the Seymour Centre in Sydney, and seems to be more about Assange-the-cipher than Assange-as-known-to-his-friends:
One problem for Elisha and for the director, Wayne Harrison, comes when big international figures make their entrances. Dmitry Medvedev, for example, who wants to give Assange the Nobel peace prize for exposing America's secrets, comes across as an overpowering Russian oligarch figure. While it works in terms of the comedy, his character seems more like Vladimir Putin than Medvedev.
Elisha's pithy one-liners are delivered with brilliant timing. At one point the Assange character is in Wandsworth prison, once also home to Oscar Wilde. "This cell is reserved for people who have been careless with their genitals," his character says.
It is not clear whether the play will be performed outside of Sydney.
2010/12/23
Bruce Sterling (who, of course, wrote The Hacker Crackdown) places the WikiLeaks situation in context:
Part of this dull, icy feeling, I think, must be the agonizing slowness with which this has happened. At last — at long last — the homemade nitroglycerin in the old cypherpunks blast shack has gone off. Those "cypherpunks," of all people.
Now, I wish I could say that I feel some human pity for Julian Assange, in the way I do for the hapless, one-shot Bradley Manning, but I can't possibly say that. Pity is not the right response, because Assange has carefully built this role for himself. He did it with all the minute concentration of some geek assembling a Rubik's Cube.
If the Internet was walking around in public, it would look and act a lot like Julian Assange. The Internet is about his age, and it doesn't have any more care for the delicacies of profit, propriety and hierarchy than he does.
Even though, as major political players go, Julian Assange seems remarkably deprived of sympathetic qualities. Most saintly leaders of the oppressed masses, most wannabe martyrs, are all keen to kiss-up to the public. But not our Julian; clearly, he doesn't lack for lust and burning resentment, but that kind of gregarious, sweaty political tactility is beneath his dignity. He's extremely intelligent, but, as a political, social and moral actor, he's the kind of guy who gets depressed by the happiness of the stupid.
2010/12/16
Julian Assange is free on bail, while he awaits Sweden's extradition case against him. According to his lawyer, he was kept in the same cell in Wandsworth Prison that had previously housed Oscar Wilde. (Perhaps it's the celebrity suite?)
Of course, it is widely argued that the Swedish allegations (note: not charges), nebulous as they are, are merely the phony war before the main event, an attempt to extradite Assange to the US and make an example of him so that nobody tries aything like WikiLeaks again, and harmony is restored across the New World Order. The British government appealing against the bail decision, and claiming that the Swedish prosecutor had done so (which the Swedes denied) also adds to the suspicion. Earlier, Assange's lawyer claimed that, according to Swedish sources, a grand jury has already been impanelled in secret in Alexandria, Virginia. The latest rumours say that the US won't seek to try Assange for espionage (which was assumed to be shaky), but to try him for conspiracy, making a case that he conspired with accused leaker Bradley Manning. Given that Manning is likely to face capital treason charges and is being held in conditions said to amount to torture, he'd have a strong incentive to remember evidence implicating Assange. The problem with this is that it is only slightly less problematic, as according to some commentators, it would also criminalise investigative journalism in general.
If the US Government just wants to put the frighteners on other potential troublemakers, they could attempt to try Assange in a closed military tribunal, arguing that evidence for the prosecution (i.e., ECHELON intercepts or similar) cannot be revealed to civilians. Everybody will suspect it's a kangaroo court, but will also know that you don't fuck with Uncle Sam.
That is, of course, assuming that the British government agrees to extradite Assange to the US. It could always stand up and tell the Yanks where to stick their conspiracy charge. By the same token, England could always win the World Cup in 2014. In all likelihood, assuming that the US gives its assurances that the prosecution will not be seeking the death penalty (the main sticking point with EU countries), extradition should be straightforward. In the unlikely occurrence that extraditing him is politically unpalatable, Britain could just cancel his visa and deport him to Australia (the only country he is believed to hold citizenship), where, if PM Julia Gillard is any authority on the matter, he would be handed over to the FBI as soon as his plane landed. (They don't mess around with finicky issues of civil liberties in former penal colonies.)
Meanwhile, Assange is not the only one to fall foul of the European Arrest Warrant system, which establishes the legal fiction that all European justice systems are equivalent and requires European countries to honour other countries' arrest warrants automatically, and has led to some absurd situations:
This month I watched proceedings in Westminster magistrates' court as Jacek Jaskolski, a disabled 58-year-old science teacher, fought an EAW issued against him by his native Poland. Jaskolski – also the primary carer for his disabled wife – has been in the UK since 2004. His crime? Ten years ago, when he still lived in Poland, Jaskolski went over his bank overdraft limit.
In 2008 a Polish man was extradited for theft of a dessert from a restaurant, using a European arrest warrant containing a list of the ingredients. People are being flown to Poland in specially chartered planes to answer charges that would not be thought worthy of an arrest in the UK, while we pick up the tab for police, court, experts' and lawyers' time to process a thousand cases a year. This whole costly system is based on the assumption that the criminal justice systems of countries such as Poland are reasonable enough that it is worth complying with all their requests.
Meanwhile, the net is closing around those involved in online activist/terrorist group Anonymous: a Greek designer
has been arrested after leaving his details in a press release
, and
Scotland Yard say that they have been monitoring the group
since their attacks on copyright enforcement groups. It is not clear whether post-9/11 antiterrorism powers are being used.
2010/12/14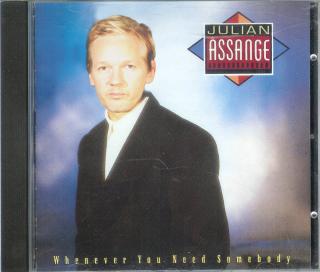 More on WikiLeaks editor/international supervillain/New World Order martyr Julian Assange: What looks like Assange's OKCupid profile, last updated in 2007. His screen name was "HarryHarrison", after a scifi author best known for his Stainless Steel Rat stories, about an anarchist antihero:
Passionate, and often pig headed activist intellectual seeks siren for love affair, children and occasional criminal conspiracy.
I like women from countries that have sustained political turmoil. Western culture seems to forge women that are valueless and inane. OK. Not only women!
I am DANGER, ACHTUNG, and ??????????????!
Meanwhile, an Internet Archive mirror of Assange's blog/website/
.profile
page is
here
. It's a good admixture of the hyper-lucid, the paranoid and the somewhat creepy. (If Assange does get a rape trial with a jury, some of the opinions he expressed about women could swing it to a conviction.)
Mathematics is a systemization of communicable human thought created by brain architectures that have male-type spacial abilities and extremised by the extremes within that group. Extreme female brain architectures would create a different sort of mathematics. It won't be created by the females currently in mathematics because they need a male type brain to thrive in the existing mathematical world. Perhaps a good cognitive neuroscientist will do it for them.
One of the devout was the lovely daughter of a New Castle minister. At some point in my unintended wooing of her, she looked up, fluttered her eyelids and said 'Oh, you know so much! I hardly know anything!'. 'That is why you believe in God," I explained. This conversational brutality took her breath away and she swooned. I was exactly what she secretly longed for; a man willing to openly disagree with her father. All along she had needed a man to devote herself to. All along she had failed to find a man worthy of being called a man, failed to find a man who would not bow to gods, so she had chosen a god unworthy of being called a god, but who would not bow to a man.
And here is Dogs In Space director Richard Lowenstein's account of his online discussions with Assange in 1994, about a possible film based on the Melbourne hacker underground.
(via Boing Boing, MeFi) ¶ 1