Posts matching tags 'keita takahashi'
2008/12/17
The first previews of Keita Takahashi's new game, Noby Noby Boy, have come in, and it's an odd one:
It's a hard game to explain without sounding silly. Picture a physics playground. You control a pink worm with feet named BOY, and move, eat objects to stretch your stomach, jump to any height you choose, and stretch lengthwise by pulling yourself in opposite directions, without any specific objectives. Then after you stretch BOY for a while, you can "report" how many meters you stretched to GIRL, causing her to stretch as well. But while BOY is a reasonably-sized character with an elastic torso, GIRL is a giant who starts life in Earth's orbit in space, and as everyone playing on PlayStation Network cumulatively reports stretching scores, GIRL grows bit by bit, eventually stretching herself from Earth to The Moon, Mars, Jupiter, etc. (and in the process unlocking these settings for all players).
As the game describes itself: "Noby Noby Boy is all about stretching a character called BOY. There are no missions or enemies... You don't collect objects by rolling a ball... This game doesn't have any of that stuff. In this game, you stretch and shrink... stretch and eat objects... That's all there is to it."
This isn't a game that tells you everything about itself up front. It gives you a short quiz and then lets you loose. If you want to trip the guy riding his bicycle, or make BOY super long and thread him through buildings or the donut-shaped clouds in the sky, that's up to you. I've had fun seeing how large I could stretch (current record is just over 500 meters) and trying to tie myself into a knot. I've eaten my way through the epilepsy warning, spotted cameos from Mappy and the Prince from Katamari, written messages on the side of BOY, befriended characters so they surf on my back, and recorded video clips (the game has an option so you can send them to YouTube).
And several images from the game have surfaced; it looks quite good, in a somewhat kawaii-yet-abstract sort of way: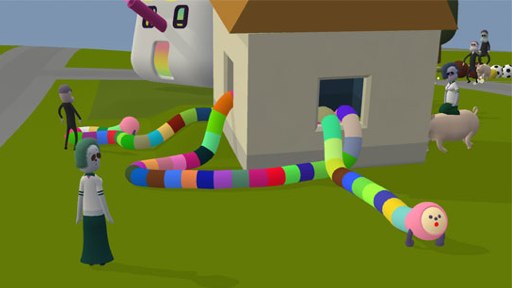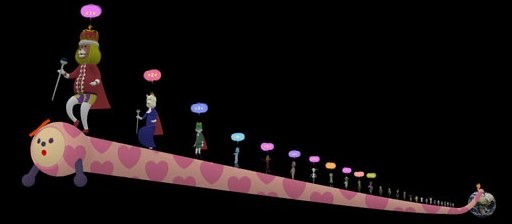 Noby Noby Boy will apparently be available as a download for the PlayStation 3 console, and will be priced at a "very reasonable" price, to ensure that players expecting Katamari Damacy VII: The Revenge or something don't feel cheated. This and Little Big Planet could be reasons to buy a PS3; it's reassuring to see that they're not just using its power to make more realistic-looking racing/war/sports/zombie-splattering games.
The ever-eccentric Takahashi, meanwhile, has apparently committed himself to designing a new children's playground in Nottingham.
(via Boing Boing Gadgets) ¶ art keita takahashi noby noby boy ps3 videogames
2007/10/29
Video has emerged of a demo of Nobi Nobi Boy, Keita ("Katamari Damacy") Takahashi's new game for the PlayStation 3. From looking at it, it seems to involve several elongated characters (consisting of two weighted ends and an elastic middle) running around and wrapping themselves around a flock of various inquisitive barnyard animals (well, those and one koala) in the middle of a featureless grey plane, and occasionally swallowing an animal or two. The commentary doesn't shed much more light on the objectives of the game.
I'm guessing that the somewhat minimalistic surroundings, as well as the lack of any indicators of score or victory conditions, mean that this is a very early prototype, just enough to demonstrate the basic concept, rather than a deliberately-chosen ultra-minimalist aesthetic.
2007/9/1
Keita Takahashi, the sculptor turned video game designer responsible for Katamari Damacy, is working on a new game. Details are scant, other than it being named "Nobi Nobi Boy" (which translates as either "Stretchy Stretchy Boy" or "Unrestricted Boy"). There are three images (which may be from the game or merely mockups) on this page (which is in Japanese), from which it appears that this game will retain the superflat aesthetic of Katamari Damacy.
Meanwhile, Namco Bandai are busy preparing a new Katamari game for the XBox 360 (and, some say, the Nintendo Wii), to be titled "Beautiful Katamari". There is A video of the game's gameplay here; judging by it, it appears to be the same concept, only enhanced for a more powerful machine (the graphics may be smoother, and the worlds scale up to larger ones, going all the way to rolling up continents on an Earth). Takahashi has no involvement with this project (and it's not clear how much of the original Katamari team is involved), so it's probably a good thing that they've been fairly conservative with the formula rather than, say, going wild and putting in photorealistic graphics. There's probably something to be said about throwing more processing power, memory and storage space at the Katamari formula as is (as evidenced by the result of going the other way and scaling it down to fit on a PSP; once you get up to the eternal modes, you notice the limitations). Having said that, given that the XBox 360 is considerably more powerful than the Wii, if they do both versions, I wonder whether the Wii version will be noticeably inferior to the 360 version.
2006/3/18
Japanese video-game publisher Namco has announced that the team responsible for Katamari Damacy and its sequels has been dissolved, and that no further sequels are planned.
The last Katamari game to come out will be Me And My Katamari, for the PlayStation Portable. Though given that this game was created without the input of Keita Takahashi, the designer of the Katamari concept, it's not inconceivable that Namco (who, presumably, own the characters and trademarks) could bring out more sequels if doing so would be profitable; they're already giving the characters cameos in other, more traditional, games.
Takahashi is apparently working on a new concept, unrelated to the Katamari games. It'll be interesting to see what he comes up with.
2005/9/2
A number of video game designers were posed the question of how to design games for grandmothers. Here is Keita Takahashi (of Katamari Damacy fame)'s answer:
He introduced his presentation, "I thought really hard about this one, I haven't thought this hard since I was coming up with the idea for Katamari Damacy. I decided that I wanted to get old ladies playing games and bring a little of the sunshine that they end up losing when they stay indoors all the time back into their lives." The focus of his talk began with the controller, he explained that current hardware designs are inorganic and difficult to understand. He introduced the design of his new controller specifically tailored for the Granny, and a picture of a cat appeared on the screen to great amusement. He explained, "the shape of the cat and the heat waves that it gives out really gets the old ladies going as they get quite cold. They like the cat shape. The cat is designed to be rested on the old ladies knees." The cat controller was met with rapture from the audience as Takahashi went on to explain the gameplay concept.
The game would begin with the family suggesting to Granny that she wear the cat because, for example, her knees looked cold. Embedded in the cat is the capability for it to communicate wirelessly with other cat controllers (on other Grannies' knees) in the neighborhood. When the cat connects to another one, "..the onboard a.i. kicks in." This causes the cat to speak, paraphrased as "meow, meow, grandma, meow". Takahashi explains that the family are required to participate in the game by pretending that they haven't heard anything, because of this--Grandma begins to build the perception that she is able to communicate directly with the cat.
As the dialogue with the cat develops, it suggests that Granny make some soup -- but faster than the other granny down the street who has also received the instruction. A competitive element emerges and gradually the cat suggests more and more group activities that Grandma might engage in, culminating in trips to the park. "..So they all go outside and eventually they meet other old ladies with cats and they all become friends."
Takahashi then said that he would put the cat proposal to Namco/Bandai.
(via bOING bOING) ¶ 1