Posts matching tags 'manitoba'
2004/6/12
I went to the Four Tet/Manitoba show at the Corner tonight. I arrived as Qua was playing; his stuff struck me as being much as it has always been: technically polished and layered, and yet melodically almost completely random; i.e., I'd be hard-pressed to tell the difference between most Qua tracks.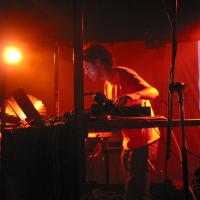 Four Tet was interesting. One guy with a laptop and a box of knobs of some sort (either an analogue mixer or a MIDI controller), rocking back and forth to the music as he controls the laptop. Not really much in the way of theatre, though after a while one got used to mentally coordinating his actions with the changes in the music. Anyway, his music tended towards chopped-up granular loops and glitches; not quite as hardcore as Kid 606 or someone. At the start of one piece, it sounded rather like Neu! or Faust or someone.
(Live laptop acts like Four Tet raise an interesting question: what is it exactly that we're watching? We're not watching him compose the music; it's pre-composed. We're not watching hin play it either; the computer is doing that, and he is controlling it. Chances are, as he put it together, he did so in Cubase or Logic or somesuch, assembling something that, when activated, would produce a sample-perfect copy of the recording, with no interaction required. Only that's not much fun to watch, so he'd have had to have dismantled that and put it into a performance system (like, say, Ableton Live), giving him the ability to control the playing mechanism in real time. So, in one sense, the performance is the ritual of producing an imperfect approximation of something more deterministically constructed. Strange, no?)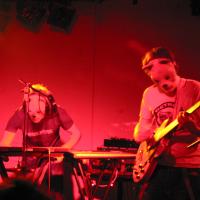 Then Manitoba came on. They were three guys in animal masks (though, thankfully, not full-body fur suits), and had two drum kits, guitars, some keyboards and a glockenspiel. They completely rocked out; drumming frenziedly, moving around the stage with guitars or playing keyboards. (Nobody was playing a laptop or anything quite as un-rock as that.) Mind you, a lot of the sound obviously came from a tape (the vocals, for one; nobody had a microphone), but the fact that the musicians were playing part of it and doing so well made the show. They played predominantly tracks off Up In Flames, though did an encore of sorts with a sampled rap vocal.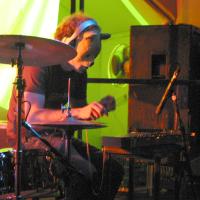 2003/9/14
There are some tracks worth voting for in the Triple J Net 50; Love of Diagrams, Minimum Chips, Manitoba and Interpol are in the current one. So's an Architecture in Helsinki song, but it's not one I'm all that fond of. (There is such a thing as too twee, you know.)
Not sure if my vote will be counted, though, given that I put in my real age.
2003/8/26
Things I have been listening to over the past few days:
Broadcast, Haha Sound -- the followup to The Noise Made By People, follows on from it, combining '60s retro sounds, sweet vocals, clunky basslines and jangly tweeness with glitchy experimental electronica (which makes sense, with them being on Warp and all). The first song sounds like Julie Andrews or something, whereas the second one is the token attempt to ride the electroclash bandwagon (thankfully the rest of the album leaves that particular well-flogged horse carcass alone). Some of the interludes are quite nice too; in particular, the bad-acid-trip quality of Black Umbrellas.
Pizzicato 5, Happy End of the World -- Electronica combined with shagadelic retro kitsch, stylised as only the Japanese can do it. The lyrics are mostly in Japanese, and the music varies from drum & bass and house to Bacharach-hop, vintage film scores and lounge exotica. Very cute and quite groovy.
Cornelius, Point -- I didn't like this much; it's a bit on the bland side. Also, the birdsong samples sound like something you'd pick up in a New Age crystal shop.
Death By Chocolate, s/t, and Zap the World -- The product of an English schoolgirl's obsession with chocky bars and the Swinging Sixties. Wears its retro stylings very much on its sleeve, and is also interspersed with short spoken-word pieces in which the narrator describes what various colours mean to her and enumerates her favourite things. Most of the music is somewhere in Mid-State Orange territory. Possibly too clever for its own good.
Chicks on Speed, The Rereleases of the Unreleases -- A collection of tracks from Chicks on Speed combines laptop electronics, punk sensibilities and ironic detachment. Has some good moments (the ironic house track Glamour Girl, and their cover of The Normal's Warm Leatherette) and a lot of filler, including many <1-minute filler tracks. Annoyingly, though, the liner notes are printed inside the packaging, which means that the only way to read them is to tear it apart. Which was probably some sort of artistic statement.
Manitoba, Up In Flames -- this has been growing on me. Think My Bloody Valentine meets Múm. Understated, reverb-drenched vocals, glitchy beats and layers of environmental sounds, processed guitars, tinkling music-box sounds and odd instrumentals. I'll probably get Start Breaking My Heart, their (more electronic-sounding) first album, soon.