Posts matching tags 'noam chomsky'
2010/9/22
Charlie Stross posted to his blog the synopsis of an alternate history novel he almost started writing in 2002, set in an interesting timeline:
The year is 1950 -- but it's not our 1950. Things began to go off the rails, history-wise, in 1917-1918. Lawrence of Arabia was shot dead at the gates of Damascus, for example: the whole face of the middle east is utterly different. Trotsky had flu in October 1917 — the Bolshevik revolution happened in early 1918, and Stalin got himself killed in the process. Because of the late Russian collapse, World War One ended differently in this universe: the Kaisershlacht started in June (not April), the German high command collapsed in January 1919, and Germany was actually occupied by Allied forces (including the first large-scale deployment of what would later be called Blitzkrieg warfare — this was actually planned, but never used because of the German capitulation in November 1918). Germany was invaded, subjugated — no support for the "stab in the back" theory that Hitler used so effectively.
In this world, Hitler never becomes dictator, and nor does Mussolini; fascism, however, is invented in Britain (with an Eric Blair becoming dictator of the Empire), and a standoff in Europe between the fascist republic of Britain and the Soviet Communists, with an isolationist America gradually taking an interest in the state of affairs, sending over two agents to investigate a curious trade of computers for heroin, and various real-world historical figures' alternate selves making appearances:
(This is all rooted in a vision I had, of William S. Burroughs as a CIA agent, and Philip K. Dick as his young henchman, going head-to-head with notorious gangster and pervert Adolf Hitler somewhere in Hamburg to find out where Hitler is shipping all the computers he can get his hands on.)
It's a pity that this book will never get written. But one can console oneself with the outline posted in Charlie's blog:
And linked from the comments (on a tangent from Charlie's dislike of traditional high fantasy and its somewhat reactionary politics): Howard Zinn and Noam Chomsky's (unused) audio commentary for Peter Jackson's Return of the King film, which exposes the colonialist-imperialist nature of the Elves and their lackeys:
ZINN: Self-hating, Elf-emulating Men invest so much in symbolic one-upmanship characteristic of capitalistic societies: Who has the nicer tunic? Whose dagger has more shiny gems on it? Who has the strongest pipe-weed? But the Orcish alliance seems to be a truly mutual, multicultural cooperative enterprise.
ZINN: You see the walls of Minas Tirith up close here. Albert Speer would have been proud. Notice the grand scale, the "great works" emphasis of Gondorian architecture. The fascist uniformity of their battle dress. Compare it to the folk artwork of Orcish armor—their improvisatory use of shrunken heads and Mannish skulls, for instance. There's something very beautiful about it to me.
CHOMSKY: A perfect example of what Ruskin valorizes as the Gothic aesthetic.
ZINN: It's nonstandardized, individual, homespun, bespoke. It's also imbued with a kind of nature worship that Elves merely play at.
¶ alternate history charlie stross history humour leftwingers noam chomsky scifi tolkien william s. burroughs
2003/9/9

Today, I received in the mail a copy of the 7" Manufacturing Resent, by Clag, an indie-pop band from Brisbane in the early 90s. The album was recorded almost exactly 10 years ago (the sleeve says September 1993), and consists of six shortish songs; it spins at 33 1/3 RPM, presumably a common indie trick to squeeze more on a cheap 7".
The songs tend towards the twee indie-pop side of things, though the naïve, childlike lyrics (which probably make Architecture In Helsinki look like Burzum or someone by comparison) are underscored by very polished and competent pop arrangements. The two sides of the raspberry-cordial-red vinyl single are labelled the "Happy Side" and "Scarey Side" (sic.), with appropriate drawings in an underground-comics style on the labels.
The "Happy Side" starts with Goldfish, a song about vaguely anthropomorphic goldfish ("look look look in the goldfish bowl and they'll look right back at you"); the lyric about them having a party, eating gelati and drinking Bacardi reveals the song's Queensland origins; were the song written in Melbourne, the partying goldfish would probably have been drinking vodka or Melbourne Bitter or something. The knowing way the singer sings "at the little girly fish the boys will be glancing" is worth it in itself; though I'm not sure about the gargling solo. The icthyan theme continues in the more downbeat Paranoid ("fish have eyes they're following me, yeah, don't know why they bother with me, don't they know I'm bo-o-ring?"). The side ends with a song about a security guard at a shopping centre, with some nice almost ska-ish trombone.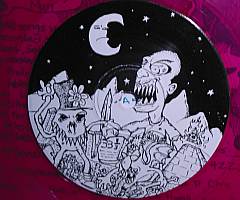 The "Scarey Side" starts with "Barberella Part 1", presumably a homage to the Jane Fonda film. Then there's "Cow", with lyrics like "cow, c-c-c-c-cow cow cow cow, dog d-d-d-dog dog dog dog", and finally a slightly more meaningful song named Chips & Gravy.
The sleeve folds out to reveal a page of lyric fragments, random graffiti-like phrases ("What do you mix powdered water with?") and drawings (such as the Triple J logo with "Triple 6" underneath it), copyright-violating drawings of cartoon characters and even some cut-up text about the pathology of atonal music.
Oh yes; the Chomsky reference in the title. Chomsky is mentioned in the graffiti inside the sleeve, and the credits thank him "and social engineers the world over". However, that is is about as political as this record gets; there is no politics or social commentary, radical or otherwise, in the lyrics. Unless, of course, there is some sneaky subliminal subversion buried within the twee-pop lyrics and arrangements, designed to subconsciously instil political consciousness over repeated listenings to the ostensibly innocent lyrics. (Which is an interesting tangent for speculation; though if someone was to do that, they'd presumably choose a vector more likely to reach mass audiences; top-40 dance-pop, perhaps? Perhaps, in a more paranoid parallel universe (or a Philip K. Dick novel), such a record could have been an ideal test of subliminal persuasion/mind-control technologies; a low-profile, low-risk dry run before the personnel involved got new identities and jobs at major labels churning out boy bands? Actually, perhaps I'll use that idea in a story sometime...)
But yes; Clag's Manufacturing Resent is a charming piece of twee indie-pop. Last time I checked, 3 Beads of Sweat in Chicago were selling copies for US$2 plus shipping; they may still have some, but if they're all gone, I'm afraid you're on your own. Unless some kind soul posts MP3s somewhere or something.
2002/10/8
Bias in the Blogosphere, an analysis of the blogging phenomenon using the Chomskyite propaganda model, and concluding that blogging is a reactionary, right-wing propaganda machine by its very structure. Makes some good points (about linkwhoring, the threat of being Dooced or mailbombed serving to shut down dissenters, and dependence on official resources for facts), but it appears to fall into the "blogging was born on 9/11" fallacy, the stereotype of equating blogging as a whole with the right-wing, jingoistic talkback-radio excesses of the "warbloggers". (via Graham)
It may well be that the majority of bloggers are wealthy white males, Libertarians turned born-again Rush Limbaugh clones when the planes hit the WTC, but that just reinforces Sturgeon's law; specifically, that when people have the means of expressing themselves, the vast majority will use it to download porn, put up photos of their cats, discuss the last episode of Friends, or loudly expound their allegiance to their favourite thought-saving orthodoxy, and only a small proportion of content will be actually interesting. (Well, that and the primal instinct to form packs and do battle against rival packs.) So it's not unexpected that big chunks of the blogosphere look like a conservative, vaguely xenophobic suburbia; well, that and the LiveJournal britneyblogs, and the technofetishistic E/N sites run by misogynistic virgins, and so on. Just that warblogging is the currently fashionable flavour of blogging for pinks.