Posts matching tags 'ps3'
2008/12/17
The first previews of Keita Takahashi's new game, Noby Noby Boy, have come in, and it's an odd one:
It's a hard game to explain without sounding silly. Picture a physics playground. You control a pink worm with feet named BOY, and move, eat objects to stretch your stomach, jump to any height you choose, and stretch lengthwise by pulling yourself in opposite directions, without any specific objectives. Then after you stretch BOY for a while, you can "report" how many meters you stretched to GIRL, causing her to stretch as well. But while BOY is a reasonably-sized character with an elastic torso, GIRL is a giant who starts life in Earth's orbit in space, and as everyone playing on PlayStation Network cumulatively reports stretching scores, GIRL grows bit by bit, eventually stretching herself from Earth to The Moon, Mars, Jupiter, etc. (and in the process unlocking these settings for all players).
As the game describes itself: "Noby Noby Boy is all about stretching a character called BOY. There are no missions or enemies... You don't collect objects by rolling a ball... This game doesn't have any of that stuff. In this game, you stretch and shrink... stretch and eat objects... That's all there is to it."
This isn't a game that tells you everything about itself up front. It gives you a short quiz and then lets you loose. If you want to trip the guy riding his bicycle, or make BOY super long and thread him through buildings or the donut-shaped clouds in the sky, that's up to you. I've had fun seeing how large I could stretch (current record is just over 500 meters) and trying to tie myself into a knot. I've eaten my way through the epilepsy warning, spotted cameos from Mappy and the Prince from Katamari, written messages on the side of BOY, befriended characters so they surf on my back, and recorded video clips (the game has an option so you can send them to YouTube).
And several images from the game have surfaced; it looks quite good, in a somewhat kawaii-yet-abstract sort of way: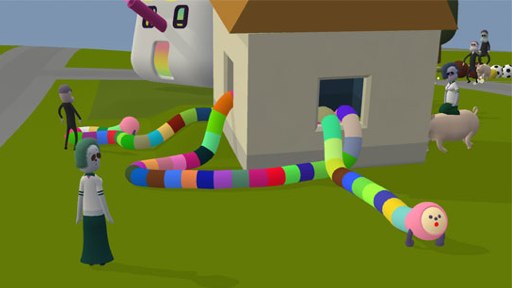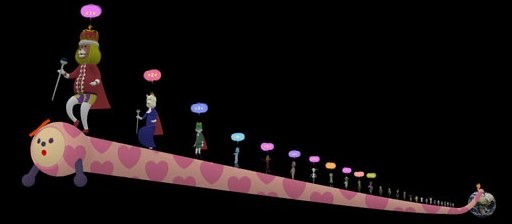 Noby Noby Boy will apparently be available as a download for the PlayStation 3 console, and will be priced at a "very reasonable" price, to ensure that players expecting Katamari Damacy VII: The Revenge or something don't feel cheated. This and Little Big Planet could be reasons to buy a PS3; it's reassuring to see that they're not just using its power to make more realistic-looking racing/war/sports/zombie-splattering games.
The ever-eccentric Takahashi, meanwhile, has apparently committed himself to designing a new children's playground in Nottingham.
(via Boing Boing Gadgets) ¶ art keita takahashi noby noby boy ps3 videogames
2007/9/1
Keita Takahashi, the sculptor turned video game designer responsible for Katamari Damacy, is working on a new game. Details are scant, other than it being named "Nobi Nobi Boy" (which translates as either "Stretchy Stretchy Boy" or "Unrestricted Boy"). There are three images (which may be from the game or merely mockups) on this page (which is in Japanese), from which it appears that this game will retain the superflat aesthetic of Katamari Damacy.
Meanwhile, Namco Bandai are busy preparing a new Katamari game for the XBox 360 (and, some say, the Nintendo Wii), to be titled "Beautiful Katamari". There is A video of the game's gameplay here; judging by it, it appears to be the same concept, only enhanced for a more powerful machine (the graphics may be smoother, and the worlds scale up to larger ones, going all the way to rolling up continents on an Earth). Takahashi has no involvement with this project (and it's not clear how much of the original Katamari team is involved), so it's probably a good thing that they've been fairly conservative with the formula rather than, say, going wild and putting in photorealistic graphics. There's probably something to be said about throwing more processing power, memory and storage space at the Katamari formula as is (as evidenced by the result of going the other way and scaling it down to fit on a PSP; once you get up to the eternal modes, you notice the limitations). Having said that, given that the XBox 360 is considerably more powerful than the Wii, if they do both versions, I wonder whether the Wii version will be noticeably inferior to the 360 version.