Posts matching tags 'shoreditch'
2010/2/5
Another nail in the coffin of the notion of Shoreditch as an artistic area: The Foundry, a bar and underground art gallery, is to be demolished, and replaced with a boutique hotel and shopping complex. Hackney Council has refused to designate the area as an "artistic space", which would have required them to seek to resettle it elsewhere; however, before it is demolished, a section of wall containing a Banksy stencil will be preserved, for later inclusion in Park Plaza's new hotel complex.
"If you go there you realise that it's not like any other space in London," said Turk. "Shoreditch has become so commercialised, like the new West End, and there isn't really anywhere that runs like the Foundry does."
If the owners of the Foundry do relocate, I wonder where they'll go; whether they'll stay in the east end, moving outward to Dalston or Bethnal Green, or whether they'll leap the Thames and
set up in Peckham
, said to be the new "blank canvas" for up-and-coming artists in London.
¶ banksy gentrification london shoreditch Share
2006/3/19
Found on Bowlie: a contemporary UK version of the infamous Hipster Bingo: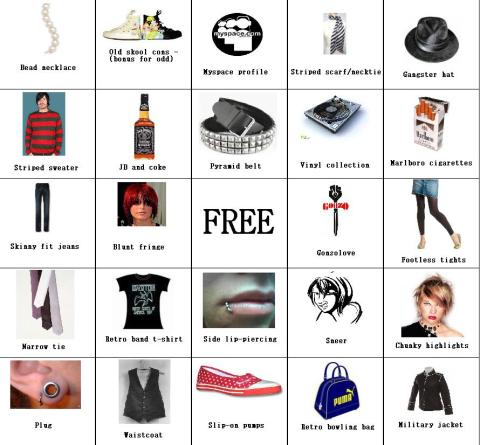 Perhaps someone should do a Melbourne version called "Coolsie Bingo"? I'd volunteer, but it'd be two years out of date.
2005/3/17
Some photographs from The Foundry, a bar and subterranean complex of art galleries in Shoreditch.
And this handy guide to urban survival:
(Btw, should you find yourself at The Foundry, I recommend the "Eco-Warrior" organic pale ale.)
2005/2/20
I just watched an episode of Nathan Barley. It's rather amusing; a sitcom set among a bunch of obnoxious coolsie wide-boys in some trendy part of London. They run in-your-face web sites and magazines (there's one named RAPE, which may or may not be a reference to Vice, present employers of Jim "Answer Me!" Goad), rap Streets-style over distorted beats, either take lots of drugs or act like it, wear ridiculous clothes and generally go around being insufferable twats to all concerned. It's written by Chris Morris, who also did controversial satirical TV series Brass Eye and wrote the lyrics to Stereolab's Nothing To Do With Me.