Posts matching tags 'sideways'
2005/3/25
Got an empty room, some free time and the urge to amuse and confuse visitors? Why not make a sideways room?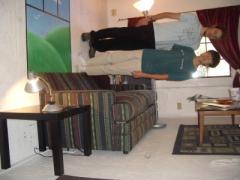 (via bOING bOING)
The Null Device, being a stream of links and commentary on culture, technology, current events and whatever the author finds interesting.
The Null Device is maintained by acb, in his copious spare time.
This site makes no pretense of being objective and no guarantees of accuracy, reliability or posting frequency.
As this blog is produced in a facility that processes sarcasm, individual posts may contain traces of sarcasm.
Recently discussed:
Tags:
advertising amusing apple art australia authoritarianism bbc bizarre business censorship china computer music copyfight copyright crime culture culture war deception design diy drm drugs détournement economics environment europe facebook film france gadgets galambosianism gay germany gibson's law gigs google hacks health hip-hop hipsters history humour indie indiepop internet irony islam japan language linux london marketing media melbourne microsoft mp3s music ninetynine paranoia personal photos politics pranks privacy psychoceramics psychology public transport railway religion religiots retrocomputing rightwingers russia satire scams science scifi security sex social software society spam stupidity surveillance tech terrorism thatcherism-blairism the long siege the onion the recording industry tories totalitarianism travel uk urban planning usa video videogames web wtf
One year ago:
2017/11/15
LGBT+ Australians and their allies can breathe a cautious sigh of relief as one prolonged chapter of the national culture-war pantomime comes to a close, with 61.6% of Australians voting to legalise same-sex marriage .
Two years ago:
2016/12/14
Terrible reports from Aleppo as the forces of the tyrant Assad, backed by Russia, take the last pockets of resistance and exact a terrible vengeance on the resisting population. Mass executions of civilians (or, in the
Five years ago:
2013/12/16
After it emerged that Thamsanqa Jantjie, the sign language interpreter at Nelson Mandela's memorial ceremony, had actually been making it up and just moving his arms about meaninglessly, Slavoj Žižek (no fan of well-meaning liberalism, to
You have been reading The Null Device.