Posts matching tags 'steve jobs'
2011/10/6
Steve Jobs has passed away today, shortly after resigning from the post of CEO of Apple due to failing health. Jobs had battled pancreatic cancer, and had received a liver transplant, a combination which didn't do much for his odds. He was 56.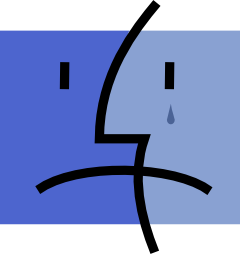 It's hard to overestimate Jobs' influence on the world; the timeline of his life is liberally scattered with world-changing achievements. The Apple II helped popularise home computing, and was responsible for a lot of people learning to program. The Mac popularised graphical interfaces. (It was neither the first GUI—that was Xerox PARC's Alto prototype—nor the most popular one—that was Microsoft's Windows, which to no small extent imitated the Mac—though it was the one which popularised the concept.) After Jobs was ousted from Apple, his next project, NeXT, was daring and beautiful, though commercially unsuccessful; however, Sir Tim Berners-Lee did create what became the World-Wide Web on one. Years later, Apple's reinvigorated Macintosh line, infused with the technical DNA of NeXT, helped to break Microsoft's stranglehold over computer standards and the leaden years of stagnation that had ensued. Meanwhile, the iPod—also not the first MP3 player by a long shot—displaced the Sony Walkman as the iconic personal audio player, and iTunes forced the hand of the recording industry. The iPhone, meanwhile, transformed mobile phones, both in industrial design (one only has to compare early Android prototypes, with their square screens and BlackBerry-esque QWERTY keypads, to the plethora of touchscreen phones which followed) and the degree of control phone carriers had over phones (which, before the iPhone, were routinely locked down to do only what the carrier saw as profitable to let its users do) and the availability of mobile internet access (which, once again, followed a walled-garden model, preserving the carrier oligopolists' profits, again at the price of stagnation). Then came along the iPad, succeeding spectacularly where tablet-shaped computers had failed for decades. And, outside of that, Jobs helmed Pixar, which produced computer-animated feature films which were not only massively popular and technologically innovative but critically acclaimed. It beggars belief to think of one human being as having had that much impact on the world, over and over again; had he had a few more decades of life, there would doubtlessly have been more.
WIRED has a list of tributes to Jobs from various luminaries, as well as an eulogy by Steven Levy. Meanwhile, there are tributes from xkcd and The Laugh-Out-Loud Cats.
2008/12/19
Speculation is rising over the health of the autocratic leader of a secretive polity after announcements that he won't be making annual public appearances. This time, it's not North Korean CEO Kim Jong-Il, but Apple God-Emperor Steve Jobs:
Several Apple employees contacted by Wired.com have reported that they haven't seen Jobs since the company announced the CEO would not appear for a Macworld keynote. Jobs generally isn't very visible in public, but the employees said they haven't seen him on campus recently, either.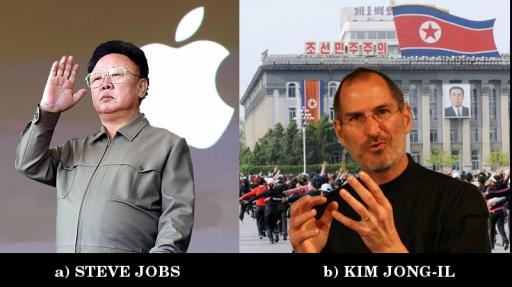 2008/1/15
As I type this, Steve Jobs is giving his keynote speech at MacWorld. From what I can tell, he has announced a few consumer gadgets (an improved AppleTV with movie rentals (presumably in the US only) and Flickr support, iPhone and iPod Touch firmware upgrades) and a wireless Mac backup appliance named "Time Capsule". Mind you, Engadget's feed doesn't seem to be coping with the load of millions of Maccies across the world constantly hitting reload to see whether any new tidbits have appeared, and Gizmodo's feed, while more reliable, seems a bit lighter on content. It'll be interesting to see what the "one more thing" is, whether it's a solid-state, Asus Eee-sized MacBook named "Air", or whether all the rumours were all off.
The presence of Hollywood heavyweights and mention of Blu-Ray is ominous; given Blu-Ray's strict licensing conditions, any Mac with Blu-Ray would have to have the same onerous internal DRM surveillance infrastructure as Windows Vista, with the same fragility, loss of performance and the actual user generally getting the rough end of the pineapple.
Update: Nothing about Blu-Ray; though the Another Thing was, in fact, the MacBook Air, a ridiculously thin 13" laptop.