Posts matching tags 'tr-808'
2013/1/31
An interesting article on the genesis of the Roland TR-808, and how Roland's famous line of drum machines owes its existence to an American musician and circuit-bending pioneer named Don Lewis:
Raised with a rich gospel tradition in Dayton, he brought his myriad musical talents to San Francisco in the '60s, where he was a staple in nightclubs. His one-man-band became known for its wild array of electronic instrumentation, which was still a novelty in those days — a small truckload of synthesizers and early rhythm boxes accompanied Don's richly-vocoded tenor to make a sound no one had heard but everyone liked.
Don had been hired by the Hammond organ company to demo its products on the show floor. He was using an Ace Tone rhythm box (which was distributed by Hammond at the time) as his percussion section. "I had modified my Ace Tone to death, changed all the rhythms because none of them fit my style of playing. I also wired it through the expression pedal of the Hammond, so I could get [percussion] accents, which no one was doing then. After the show this man from Japan came up and the first thing out of his mouth was 'that looks like my rhythm unit but it doesn't sound like my rhythm unit! How did you do that?'" It was Ikutaro Kakehashi, the president of Ace Tone.
Kakehashi went on to found Roland Corporation, capitalising on Lewis' suggestion for a rhythm box with modifiable rhythms (or, what later became known as a
drum machine
), and hiring Lewis as an engineer, to work on projects including the CR-68 and, eventually, the TR-808.
On a visit to Roland's Tokyo offices in the late '70s, Don was working with chief engineer Tadao Kikumoto. "That day he had a bread board of an 808 and was showing me what was going on inside — he sort of bumped up against the breadboard and spilled some tea in there and all of a sudden he turned it on and got this pssh sound — it took them months to figure out how to reproduce it, but that ended up being the crash cymbal in the 808. There was nothing else like it. Nobody could touch it."
The article also describes Lewis' homemade Live Electronic Orchestra, the complex of ancient synthesizers and other circuits which Lewis played live back in the 1960s, and which has been restored for a special performance at the NAMM music trade fair:
It's a one-off work of art, a kind of who's who of vintage synthesizers networked to one another through connection standards the industry has long forgotten but Don is still fluent in. A series of hand-built buffer boards and timing modules allow an Arp Pro Soloist to talk to a Promars Computronic and a Roland Jupiter-4. The Hammond expression pedal can control a variety of parameters for any of the sounds coming through the Boss KM-6A mixer, whose channels Don built a remote control panel for right into the body of the three-stage organ. It's basically a 1977 copy of Ableton Live that weighs two tons, doesn't have a EULA, and does a heart-melting rendition of "Amazing Grace."
2008/12/15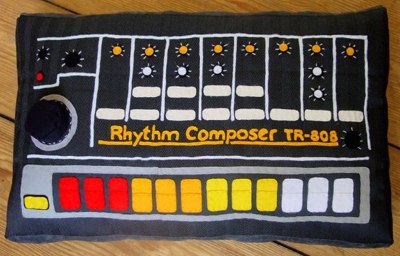 The Independent's Rhodri Marsden has an article about the Roland TR-808, the classic electronic drum machine which became a staple of everything from hip-hop to electronica, from post-punk rock to adult-oriented soft-soul, and now having lent its name to a Kanye West album (somewhat ironically, perhaps, as there is little evidence of any 808s having been used in the making of the album; those who bought it expecting to hear some sweet sidestick-and-cowbell action will probably have reason to be disappointed).
And once you know what you're listening out for, you'll hear the 808 on innumerable tracks. Unfortunately, one of its most widely heard manifestations is the cowbell effect that hammers away like a distressed woodpecker during "I Wanna Dance With Somebody" by Whitney Houston. "That noise is the bane of my life," says Simon Thornton, the producer of Fatboy Slim and countless other British dance acts over the past two decades. "It makes you wonder which person at Roland actually decided that it sounded any good."
But one man's trash is another man's treasure, and Jyoti Mishra, the self-confessed producer of "camp synth pop" and former singles chart-topping artist under the name White Town, considers the same noise to be iconic. "And so are the claves, and so are the handclaps. Of course, they don't sound like handclaps – but strangely, they have somehow become the sound of handclaps. Every drum machine produced since then has had to feature that same kind of noise."
By the mid 1980s, the 808 had helped rap artists such as Run DMC and the Beastie Boys to worldwide success – but it was also dusted off in studios to provide backing for more laidback tunes, such as Marvin Gaye's "Sexual Healing" and "One More Night" by Phil Collins. "I got mine in 1983," says Mishra, "and immediately loved it. And those things it was criticised for – the limitations of its built-in sounds – are what ended up making it so popular."
The 808 pillow in the photo, incidentally, has nothing to do with the article
per se
, but comes from
this article
.
2005/9/2
ReBirth, the 303/808/909 emulator/music production tool/toy of the late 1990s, is now free (as in beer). Propellerheads have put ISO images of it, as well as demo songs and mods (i.e., skin/sample packs), up for downloading. The software itself is unmodified; it apparently doesn't work with OSX, it still checks for the CD every time it starts (a useless exercise in "copy protection" when the CD is a burnable image), and even shows the old EULA which prohibits use on multiple machines (though the web site tells you that the new download license overrides that).
What would be cool would be if Propellerheads released the source code. They wouldn't lose any competitive advantage by doing so, and would stand to gain good will, while hackers with more time on their hands than Propellerheads would be able to update it (from getting it to run on OSX to porting it to new platforms, from Linux to hacked PSPs). And, of course, getting rid of the pointless CD check on startup.
Incidentally, the ISO image for the PC version isn't a pure ISO9660 image but has a large quantity of 0s at the start. If burning it with cdrecord (i.e., under Linux), you will need to first strip the nulls off with something like:
dd if=rebirth_pc_installation.iso of=rebirth.iso bs=4096 skip=75
There have since been more 303 emulators; there's a commercial VST/AU plugin here which is said to be good. And then there's Muon's Tau, a free-as-in-beer 303-esque softsynth. In the open-source world, there is a rather rudimentary open-source attempt at 303 emulation, written by Your Humble Narrator a few years ago, here (it runs on Linux and uses Curses).
(via MusicThing) ¶ 0