Posts matching tags 'twee'
2012/3/5
Dorian Lynskey, music journalist and author of 33 Revolutions Per Minute: A History of Protest Songs has posted a blog article about the rising infantilisation of culture, as seen in everything from food packaging to utility bills being written in a cutesy first-person voice. The catalyst having been a Sainsbury's branding exercise renaming tiger bread to "giraffe bread", allegedly at the behest of a small child:
Surely rechristening a product to appease someone not long out of nappies marks some kind of turning point in the infantilisation of branding: a seemingly interminable trend which makes grown men think it's OK to give their age as "27 & 3/4" without being shoved into a canal. Maybe I should ask my five-year-old daughter to rebrand the Jerusalem artichoke, which is neither an artichoke nor from Jerusalem, and we can all start cooking with Goblinhead instead. Or would that be "a bit silly"?
(And Sainsbury's aren't the only supermarket to do this; according to Morrison's, the natural voice of food products is
first-person, in a wobbly, childlike handwriting
, which is perhaps somewhat disturbing. I'm not sure I'd like the idea of eating a loaf of bread with the ascribed personality of a small, cheerful child.)
I think it's partly related to the Cult of the Child, defined by one blogger as "the brainwashing some parents undergo that convinces them their children are innately, infallibly wise, untainted by worldly prejudices, and therefore their opinions and pronouncements should be heeded as if they were handed down from the heavens, and their every wish should be indulged". Parenthood, instead of marking the point at which one irrevocably becomes an adult, is often presented as a second go-around, with the parent eager to shrink the age gap. The packaging of Little Me Organics ("Lots of mummys got together to create a range that was carefully selected to be the best for their little ones…") and Ella's Kitchen baby food bizarrely addresses parents as if they were babies themselves, making childhood synonymous with those sacred concepts in upmarket food branding, "natural" and "pure". Handwritten, obviously, because fonts are for phonies.
And that's the thing. The brand's voice is "childlike" but it's not actually like a child at all, because real children are complicated and tempestuous and say all kinds of stuff: it's the voice of a parent trying to get a child to do something by approximating their outlook. Innocentese is relentlessly chirpy and nice, in a profoundly white and middle-class way which connects with its affluent customer base.
Lynskey puts the blame for this kind of quirkiness on the rise of faux-naïf indie culture (think Wes Anderson, Zooey Fucking Deschanel, &c.), with patient zero having been the twee indie-pop genre of the 1980s, where a rejection of adult tropes was a reaction to both reactionary rock'n'roll machismo, soulless corporate music product and sexualised consumerism.
When, a decade later, alternative rock had come to resemble the things it had once opposed, via Britpop and corporate grunge, key indie bands once again reached for the satchels. Belle & Sebastian named themselves after a children's book and wrote some of their best songs about school, while Neutral Milk Hotel recorded an album inspired by Anne Frank and the lo-fi, pots-and-pans amateurism of a particularly enthusiastic summer camp. These were gifted songwriters creating idiosyncratic private worlds born of refusal and I don't blame them for what followed anymore than I blame Nirvana for Nickelback, but over the following decade this cult of childhood became part of indie's schtick.
This sort of tweeness spread outward, to the less muscular fringes of dance music (Lemon Jelly and Mr. Scruff are mentioned), cinema (from Wes Anderson and such to more mainstream fare), and, so on. And as we all know, every oppositional stance gets commodified sooner or later, and in this case, the result is Innocent Smoothies, inanimate objects addressing people in the first person, and a surfeit of typefaces that look like wonky handwriting. Though the end of twee may be in sight:
I thought perhaps that the whole down-the-shitcan vibe of the world at the moment would puncture the whimsy bubble. If anything it seems to have intensified the need to escape to a wuvly innocent world where nobody's heard of the Euro crisis or Iranian nukes. But I suspect that just as indie music and cinema laid the groundwork for Innocentese, the growing revulsion towards twee art is the first sign of a backlash against it among consumers. As the language becomes more common, more widely mocked, less trusted, it becomes less useful for brands and one day soon — I hope and pray — we will see the end of the Innocents.
2012/1/9
In his most recent column, Charlie Brooker suggests a few things to give up for the New Year, among them, variants on "Keep Calm And Carry On" and cupcakes:
Of all the irritating "Keep Calm" bastardisations, the most irritating of all is the one that reads "Keep Calm and Eat a Cupcake". Cupcakes used to be known as fairy cakes, until something happened a few years ago. I don't know what the thing was, because I wasn't paying attention. All I know is that suddenly middle-class tosspoles everywhere were holding artisan cupcakes aloft and looking at them and pointing and making cooing sounds and going on and bloody on about how much they loved them. I wouldn't mind, but cupcakes are bullshit. And everyone knows it. A cupcake is just a muffin with clown puke topping. And once you've got through the clown puke there's nothing but a fistful of quotidian sponge nestling in a depressing, soggy "cup" that feels like a pair of paper knickers a fat man has been sitting in throughout a long, hot coach journey between two disappointing market towns. Actual slices of cake are infinitely superior, as are moist chocolate brownies, warm chocolate-chip cookies and virtually any other dessert you can think of. Cupcakes are for people who can't handle reality.
Meanwhile, Melbourne writer/broadcaster Helen Razer opines on
the recent epidemic of whimsy and quirkiness in popular culture
(i.e., cupcakes, polka dots, knitting, pugs, ukuleles, Zooey Fucking Deschanel, et al.):
[Miranda July] is to cinema as the contemporary cupcake is to carbohydrate. This is to say, she is fantastically decorative and easy to consume but ultimately delivers naught but empty calories in a gaudy blast of sugar. In her non-narrative narratives about mildly depressed shoe salesmen and people who babysit slightly injured cats, she hints at depths that do not exist. This, of course, is not a transgression we could attribute to the cupcake. But July's perplexing popularity, just like the cupcake's, is founded on the overuse of whimsy.
The popular actress and singer Zooey Deschanel had elective surgery that saw her brain and taste replaced with a clockwork mouse. Michael Cera, insufferable star of the insufferably whimsical Juno, works to a similar mechanic and if I see one more knitted effing toy at a gallery, I may take a needle and hurt the next ''craft practitioner'' foolish enough to offer me a cupcake. As for burlesque. Well. If I had my way, ''whimsical'' disrobing would by now be a summary offence.
Razer places the blame on Jeff Koons, the yuppie banker who parlayed his skillset into becoming the founding artist of the Capitalist Hyperrealist movement, predicated on an infinitely shiny, infinitesimally superficial lack of deeper meaning, and in doing so, brought whimsy into the mainstream.
It is difficult to pinpoint the moment when whimsy escaped from the birthday parties of six-year-old girls and into the business of serious art. We might suppose that this was in the same moment intelligent women stole cupcakes from their daughters. I personally place the shift at about 10 years ago when I noticed a large dog sitting by Circular Quay.
There are many things to loathe about Jeff Koons. Much of his work is a triumph of money and plastic. Even when he does not work in plastic, he seems, somehow, to be hygienically safeguarded against any infection by meaning. This, to me, is his gravest offence and the primary impact of his stupid sculpture Puppy.
Which suggests that the kooky, twee whimsy that infects White-People consumer culture is itself a necessary consequence of the rise of postmodernism. The question is: what mechanism leads from A (the state in which it is a truth universally acknowledged that Everything Is A Market and that nothing has any intrinsic meaning deeper than the price that the market will bear for it) to B (the ascendance of cupcakes, polka dots and Manic Pixie Dream Girls with ukuleles to cultural universality).
Meanwhile, the Graun's Jonathan Jones puts the boot into Damien Hirst, Blatcherite Britain's answer to Jeff Koons:
But from a British point of view, don't you feel thrilled that the most outrageous artist in the world, the most hated and reviled, is from these shores? I mean, we used to be crippled by good taste – or rather, people saw us that way. How did it come about that a British artist outdid Andy Warhol as a businessman and Jeff Koons as a master of kitsch? It is surely a national triumph.
Something happened in Britain in the 1980s and 90s that tore up the national rule book – in politics, economics and art. Hirst, whatever your feelings about him, is a symbol of that time of change. And like it or not, at a time when we wonder what is coming next, he flies the flag for a provocative and electrifying world image of Britain. Just like Thatcher did.
One could make a case that Damien Hirst's art is to Thatcherism-Blairism what Rodchenko's constructivism was to the young USSR and banners of heroic peasants waving red flags were to Maoism; it was the house style of an ideology, in this case one combining the naked free market of Thatcherism with the feel-good spin of Blairism.
2004/10/13
Belle & Sebastian: not just a band, but your one stop shop for coolsie lifestyle accessories, from flight bags to--wait for it--trucker caps, all carrying the Belle & Sebastian brand (which could well be the next Paul Frank or something). The only thing they're missing is gas-station attendants' shirts.
And for the mono.net set, they have this badge of a very twee-looking bird kicking an egg.
2004/4/28
A pretty good explanation of the C86 phenomenon; the trend in UK indiepop that emerged in the 1980s, took its name from a NME compilation tape, and gave rise to labels such as Sarah Records, and later influenced everyone from Belle & Sebastian to the extensive US twee/indiepop scene of the 1990s and today. (found on LiveJournal)
C86 was a subculture and a fanzine culture (Kvatch, Sha-la-la and Are You Scared To Get Happy?). It spoke to alienated teenagers bored with mainstream culture and hooked on DIY lo-fi sensibilities, an almost asexual child-like affectation, Sixties pop and girl groups, seven-inch singles, bedsit socialism and a romantic, pastoral, holding-hands vision of England.
The influences are basically classic, melodic pop music from any era. The most obvious ones are The Go-Betweens, Aztec Camera, The Smiths and Orange Juice. Other icons include fanzine writers Matt Haynes and Clare Wadd (who set up Sarah) and Mathew Fletcher (the Talulah/Heavenly drummer who tragically committed suicide in 1996). Alan McGee would have been an icon if he hadn't committed so many crimes against pop music since.
2003/11/14
US indie/twee-pop label Kindercore is dead, shutting down their New York office and cancelling upcoming albums. Fortunately, the back-catalogue will remain in print. Cause of death is attributable to some combination of (a) poor market conditions, (b) MP3 piracy (now look what you kids have done!) and (c) the new-rock revival making twee indie-pop about as fashionable as accordion polka.
I only bought a few things from them, but it's still a pity to see them go.
2003/10/17
A special treat for the indie-pop fans today: Clag's Manufacturing Resent 7", released in 1993 and quite rare these days, is now online in high-definition MP3 format. Enjoy the twee indie-pop goodness.
2003/9/9

Today, I received in the mail a copy of the 7" Manufacturing Resent, by Clag, an indie-pop band from Brisbane in the early 90s. The album was recorded almost exactly 10 years ago (the sleeve says September 1993), and consists of six shortish songs; it spins at 33 1/3 RPM, presumably a common indie trick to squeeze more on a cheap 7".
The songs tend towards the twee indie-pop side of things, though the naïve, childlike lyrics (which probably make Architecture In Helsinki look like Burzum or someone by comparison) are underscored by very polished and competent pop arrangements. The two sides of the raspberry-cordial-red vinyl single are labelled the "Happy Side" and "Scarey Side" (sic.), with appropriate drawings in an underground-comics style on the labels.
The "Happy Side" starts with Goldfish, a song about vaguely anthropomorphic goldfish ("look look look in the goldfish bowl and they'll look right back at you"); the lyric about them having a party, eating gelati and drinking Bacardi reveals the song's Queensland origins; were the song written in Melbourne, the partying goldfish would probably have been drinking vodka or Melbourne Bitter or something. The knowing way the singer sings "at the little girly fish the boys will be glancing" is worth it in itself; though I'm not sure about the gargling solo. The icthyan theme continues in the more downbeat Paranoid ("fish have eyes they're following me, yeah, don't know why they bother with me, don't they know I'm bo-o-ring?"). The side ends with a song about a security guard at a shopping centre, with some nice almost ska-ish trombone.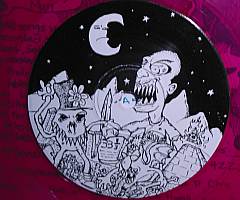 The "Scarey Side" starts with "Barberella Part 1", presumably a homage to the Jane Fonda film. Then there's "Cow", with lyrics like "cow, c-c-c-c-cow cow cow cow, dog d-d-d-dog dog dog dog", and finally a slightly more meaningful song named Chips & Gravy.
The sleeve folds out to reveal a page of lyric fragments, random graffiti-like phrases ("What do you mix powdered water with?") and drawings (such as the Triple J logo with "Triple 6" underneath it), copyright-violating drawings of cartoon characters and even some cut-up text about the pathology of atonal music.
Oh yes; the Chomsky reference in the title. Chomsky is mentioned in the graffiti inside the sleeve, and the credits thank him "and social engineers the world over". However, that is is about as political as this record gets; there is no politics or social commentary, radical or otherwise, in the lyrics. Unless, of course, there is some sneaky subliminal subversion buried within the twee-pop lyrics and arrangements, designed to subconsciously instil political consciousness over repeated listenings to the ostensibly innocent lyrics. (Which is an interesting tangent for speculation; though if someone was to do that, they'd presumably choose a vector more likely to reach mass audiences; top-40 dance-pop, perhaps? Perhaps, in a more paranoid parallel universe (or a Philip K. Dick novel), such a record could have been an ideal test of subliminal persuasion/mind-control technologies; a low-profile, low-risk dry run before the personnel involved got new identities and jobs at major labels churning out boy bands? Actually, perhaps I'll use that idea in a story sometime...)
But yes; Clag's Manufacturing Resent is a charming piece of twee indie-pop. Last time I checked, 3 Beads of Sweat in Chicago were selling copies for US$2 plus shipping; they may still have some, but if they're all gone, I'm afraid you're on your own. Unless some kind soul posts MP3s somewhere or something.
2003/3/22
These records seem to be the most exceedingly twee thing in the history of recorded music. Judging by the packaging alone (handmade covers drawn by elementary school children, or pictures of smiling blob-shaped ponies carved out of brightly-coloured foam), they make Architecture in Helsinki look like Burzum or someone by comparison; and that's not even getting into the music. Some may find this a bit too much (it probably is), though if the present state of the world is making you feel sick, you could probably do worse than lock yourself in a well-lit pastel-coloured room with a good supply of Prozac and the MP3s on the page set to repeat. (via Largehearted Boy)
2003/2/26
Today's InPress has a review of Architecture in Helsinki's new album, Fingers Crossed, comparing it to "Belle & Sebastian on Prozac", and suggesting that AIH may in fact be Belle & Sebastian in disguise. The review also makes references to Stereolab and Frente. Heh.
2002/12/7
The Architecture in Helsinki CD launch was rather fun (in places). The first set (by Qua) was the usual obtuse laptop music, though not too bad. Jeremy Dower's support set, however, had a cheesy 80s-lounge-music (think Kenny G meets some cop show theme or other) feel to it; he's apparently abandoning the laptop-glitch side of things, though I'm not sure I like where he's going. And annoyingly enough, the music between sets was all booty R&B and commercial hiphop from the 90s (they had MC Hammer there, for "Bob"'s sake); not the sort of music that you'd expect the crowd, in their op-shop shirts and pastel jumpers, to get into, and there was too much of it for it to be ironic.
Architecture in Helsinki were good though (despite the place being so packed that it was hard to see them). In their usual so-twee-it-hurts vein, as soon as they got on stage, an accomplice opened a door releasing dozens of red balloons (one of which had a feather tied to it, and a prize for whoever got it). The performance was good too, in the usual xylophones-and-brass-and-reed-instruments vein. Most of the time they didn't quite rock, but played some very nice and somewhat quirky quiet pop. They ended the gig with a rocking rendition of The Cure's Close To Me, complete with heavy-metal-style guitar solo, and for an encore, one of the guys sang over an electronic backing track while the three girls busted some synchronised dance moves.
Oh, and their new single, like a call, is pretty good; especially some of the remixes. Apparently the limited-edition 10" vinyl version has an extended version of one of them too. I eagerly await their album, Fingers Crossed, which is due early next year.
2002/10/31
Seen on a flyer picked up from a record shop in Islington:
Bowlie Nite
1st Thursday of every month at Lounge Bar

DJ's
The Hatster
Kid Sinead and Friends
With regular guests including:
Billy Reeves (BBC London Live)

Playing Bowlie favourites such as: Free Design, Mamas & Papas, Beach Boys, Young Marble Giants, Stereolab, Belle & Sebastian, Black Box Recorder, Broadcast and a Bowlie shaking selection of 60s/French Pop, Northern Soul, 50's Jives and varied records of sweet and melodic sounds, old, new & rare!
The obverse of the flyer has a drawing from an old children's book of a little boy and girl running along a street, with a Belle & Sebastian lyric printed over it.
Does anyone know what the word "Bowlie" means in this context? I get the feeling it's a (new?) name for a twee-pop subculture, but why Bowlie?
2002/9/18
Could this be the most twee Flash game ever? A kid of indeterminate sex flying a kite from a bicycle, over a vaguely pastoral backdrop, while a plucked acoustic guitar loop plays. How much do you want to bet the programmer was listening to a lot of Belle & Sebastian at the time?
2002/6/23
Live bands: This evening's live music at the Tote was quite good; first up was Steward (aka Stewart Anderson), doing the very final gig of his recent Australian tours. It was a solo gig, with just a guitar, some crunchy noise pedals and a MiniDisc of drum loops (some of which sounded like an 808 being run through various distortion pedals). He didn't bring any Hello Kitty toys or other similar noisemakers, but rocked out nonetheless. If Stewart plays in your town, either solo or in Boyracer, go and see him and be reminded what rock is.
Next up were Sister Cities, a minimal side project of Architecture in Helsinki. Guitar, clarinet, ba-ba-ba harmony vocals, a toy piano and some very lovely, sweet pop. At one point they did what I think may have been a Bruce Springsteen cover (though not that he'd recognise it). Anyway, they're playing again on the 4th at the Town Hall Hotel.
Then came Origami; a slightly punky two-girl indie-pop band (founded by a former member of a certain casiopunk outfit I keep going on about); mostly jangly indie guitars, with a few surprises (some banshee-like screams, and at one stage an 8-bar funk breakdown). Stewart joined them on drums and played really well (though he didn't think so).
Finally, Sarah Dougher came on and played a set, in a singer-songwriter sort of vein; fellow Oregonian Amy Linton of the Aislers Set joined her on drums.
<TANGENT>
Towards the end of their set, Origami did a short (and rather doovy) guitar/Casio instrumental named Nancy Drew; which got me thinking about the connections between a certain type of indie-pop and retro/childhood references. Whether it's retro-hipster irony, indiekid neoteny, subversive punk culture-jamming, or some combination of all three.
</TANGENT>

Anyway, it was quite a good night.
2002/5/13
My poor long-suffering credit card: It seems that the Northern Picture Library stuff is still in print; as such, I've just ordered their two CDs from a US outfit named Twee Kitten (mostly because it's cheaper than buying from the UK), along with an album by an act named Fosca, whom I've heard interesting things about.
(The graphic is from the Twee Kitten ordering page. What is it about indie types and naïve drawings of children?)