Posts matching tags 'videogaming'
2008/1/24
The internet, with its detachment between online and offline actions and its lack of a private register, has spawned the phenomenon of griefers, or highly organised subcultures of people (mostly young men) who delight in ruining other people's online fun:
Consider the case of the Avatar class Titan, flown by the Band of Brothers Guild in the massively multiplayer deep-space EVE Online. The vessel was far bigger and far deadlier than any other in the game. Kilometers in length and well over a million metric tons unloaded, it had never once been destroyed in combat. Only a handful of player alliances had ever acquired a Titan, and this one, in particular, had cost the players who bankrolled it in-game resources worth more than $10,000.
So, naturally, Commander Sesfan Qu'lah, chief executive of the GoonFleet Corporation and leader of the greater GoonSwarm Alliance — better known outside EVE as Isaiah Houston, senior and medieval-history major at Penn State University — led a Something Awful invasion force to attack and destroy it.
"The ability to inflict that huge amount of actual, real-life damage on someone is amazingly satisfying" says Houston. "The way that you win in EVE is you basically make life so miserable for someone else that they actually quit the game and don't come back."
To see the philosophy in action, skim the pages of Something Awful or Encyclopedia Dramatica, where it seems every pocket of the Web harbors objects of ridicule. Vampire goths with MySpace pages, white supremacist bloggers, self-diagnosed Asperger's sufferers coming out to share their struggles with the online world — all these and many others have been found guilty of taking themselves seriously and condemned to crude but hilarious derision.
Griefers defend their behaviour by claiming that they're merely giving those who take the internet far too seriously a reality check. The implied subtext is that anything that happens online is just a game and doesn't count. Though, given how the internet has become a mainstream part of many people's lives (witness, for example, the rise in social networking websites), this assertion makes about as much sense as
Tom Hodgkinson's call to kill your Facebook account, throw away your email address and instead socialise in the pub with people near you
. There's not a great leap from asserting that anything that happens online doesn't really count and absurdly ludditic claims like "if you don't know what someone smells like, they're a stranger".
On the other hand, there is no such thing as the right to be respected, or even to not be ridiculed. If one posts a web page detailing one's peculiar political views, conspiracy theories and/or sexual fetishes online, one can expect to be laughed at and even snidely remarked about. Though there is a distinction between demolishing someone's homepage in a blog or discussion forum and actively gathering a posse and going out to hound them off the net.
Griefing happens in the real world, though it's usually called other things, such as bullying. The difference is that the internet has democratised bullying. In the real world, in more conformistic societies, bullies can typically only be those either of or contending for alpha social status, enforcing an exaggerated version of majority values by picking on those perceived to not conform to them (witness the use of the word "gay", sometimes semi-euphemised as "ghey", as a general-purpose term of derision), and in more liberal or pluralistic environments, even that is frowned upon. Online, anyone can find a group of like-minded misfits, make up a cool-sounding name, set up a virtual clubhouse and start picking on mutually agreed targets, with little fear of social consequences.
¶ assholes bullying culture furries griefers internet online psychology sadism society something awful the private register videogaming
2007/8/2
Activision Reports Sluggish Sales For Sousaphone Hero:
Hendleman admitted that the $345 retail price might be a bit steep for many consumers. She also conceded that Activision may have erred by not releasing the game between Memorial Day and July 4, the prime parade season in the United States. Even so, she added, Sousaphone Hero contains "more than enough" features to keep gamers absorbed.
"And if you like multiplayer gaming, you're in luck," Hendleman continued. "In Sousaphone Hero's cooperative marching-band mode, as many as 135 of your friends can play simultaneously."
2006/7/8
Necessity, they say, is the mother of invention. And the latest invention is a voice changer for female video gamers, allowing them to contend in the macho culture of online games without fear of harrassment or inappropriate sexual attention from prehensile, undersocialised geeks.
According to research conducted by the company, "The number of female online game players is not small", would you believe. In fact, "Many of them have reached the highest level of some very difficult games such as World of Warcraft (60th level), which is considered the game for men only."
The software comes with presets which turn lady voices into big deep Blessed-esque ones. You can also create your own new voice by mucking about with pitch and timbre settings, and other features include advanced tune and noise reduction.
Given that it is adjustable, I imagine it could also be useful in the other direction; from now on, a voice call is no longer a guarantee that your new online friend "HotBiBabe18F" is not a sweaty 41-year-old man.
(via Boing Boing) ¶ 2
2006/7/2
A list of the 50 worst video game names of all time. All of these are names of actual games. This includes the likes of Princess Tomato in Salad Kingdom (NES, 1990), Tongue of the Fatman (PC, 1989), Sticky Balls (Gizmondo, 2005), Nuts & Milk (NES, 1984) and the inexplicably titled Irritating Stick (PlayStation, 1999).
2006/3/20
This looks fairly interesting: a Taiwanese company is bringing out Flash-based MP3 players with built-in Sega games.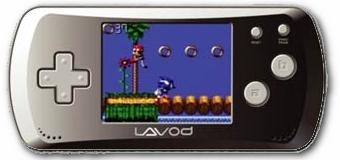 The Lavod PocketPlays will come preloaded with 10 or 20 Sega titles, and have TV output for playing them on a television. Other than that, little is known about them, except that one of them will have a SD Card slot and USB 2.0 port.
2005/10/6
The Australian High Court has just ruled that console modchips are legal, as they can be used to play legally-purchased software from different regions. This reinforces an earlier ruling, which Sony and others were hoping would be overridden by the draconian paracopyright provisions in the US-Australian Free Trade Agreement; their hopes, thankfully, were dashed:
"in construing a definition which focuses on a device designed to prevent or inhibit the infringement of copyright, it is important to avoid an overbroad construction which would extend the copyright monopoly rather than match it. A defect in the construction rejected by Sackville J is that its effect is to extend the copyright monopoly by including within the definition not only technological protection measures which stop the infringement of copyright, but also devices which prevent the carrying out of conduct which does not infringe copyright and is not otherwise unlawful. One example of that conduct is playing in Australia a program lawfully acquired in the United States. It was common ground in the courts below and in argument in this Court that this act would not of itself have been an infringement."
Which means that Australians can now legally play Katamari Damacy and such. (Except perhaps that importation of games without an OFLC classification may technically be a criminal offence.)
2005/9/2
A number of video game designers were posed the question of how to design games for grandmothers. Here is Keita Takahashi (of Katamari Damacy fame)'s answer:
He introduced his presentation, "I thought really hard about this one, I haven't thought this hard since I was coming up with the idea for Katamari Damacy. I decided that I wanted to get old ladies playing games and bring a little of the sunshine that they end up losing when they stay indoors all the time back into their lives." The focus of his talk began with the controller, he explained that current hardware designs are inorganic and difficult to understand. He introduced the design of his new controller specifically tailored for the Granny, and a picture of a cat appeared on the screen to great amusement. He explained, "the shape of the cat and the heat waves that it gives out really gets the old ladies going as they get quite cold. They like the cat shape. The cat is designed to be rested on the old ladies knees." The cat controller was met with rapture from the audience as Takahashi went on to explain the gameplay concept.
The game would begin with the family suggesting to Granny that she wear the cat because, for example, her knees looked cold. Embedded in the cat is the capability for it to communicate wirelessly with other cat controllers (on other Grannies' knees) in the neighborhood. When the cat connects to another one, "..the onboard a.i. kicks in." This causes the cat to speak, paraphrased as "meow, meow, grandma, meow". Takahashi explains that the family are required to participate in the game by pretending that they haven't heard anything, because of this--Grandma begins to build the perception that she is able to communicate directly with the cat.
As the dialogue with the cat develops, it suggests that Granny make some soup -- but faster than the other granny down the street who has also received the instruction. A competitive element emerges and gradually the cat suggests more and more group activities that Grandma might engage in, culminating in trips to the park. "..So they all go outside and eventually they meet other old ladies with cats and they all become friends."
Takahashi then said that he would put the cat proposal to Namco/Bandai.
(via bOING bOING) ¶ 1
2005/1/4
Also on the New Year Honours list: Peter Molyneaux, creator of Populous, Black and White and Fable and pioneer of the "God-game" genre, gets an OBE. According to comments in the Slashdot thread, he is not the first computer game designer honoured with an OBE; for one, the designer of Creatures got one a while ago.
2003/8/1
Mod chips for game consoles are now illegal in Australia. How quickly this will impair their availability at computer markets remains to be seen.
2003/5/28
This looks like a fun book: Lucky Wander Boy, about an over-intellectual video-game connoisseur's quest for an ultra-rare game. Some excerpts:
Who doesn't love "Frogger"? It draws its power from our shared memories of powerlessness. Wherever we are now, at one time or another we have all felt the poor frog's anxiety in the face of the world's intransigence, its blind and callous disregard for our happiness or well-being. We are not killing anything in "Frogger," except the occasional fly. It is all we can do to stay alive, avoid the fast cars, snakes, gators and weasels long enough to get a lady frog and make it to the top of the screen for our moment of rest. More than anything else, we'd love to stay in that Frog Haven forever, existing in a state of amphibian bliss -- but we are forcibly dislodged, and have to repeat the whole ordeal. Most of our antagonists do not even know we exist. They are not "after" us. We are not a target. We are just in the way.
And the world of "Double Dragon" is a world of car ads and wanted posters and brick buildings, not the iconic idea of a building we see in "Donkey Kong," but recognizable individuated buildings. The Classic games were Classic because, like classical music or architecture, they strove to give life and weight to ideals of order and proportion, to provide a vision of timelessness. In "Double Dragon," we can see the cracks in the brick, the mold growing on the drainage pipes, the unmistakable deterioration of the world we live in. We are thrust rudely back into time. When I put a quarter into an arcade machine or call up an emulated game on my computer, I do it to escape the world that is a slave to the time that makes things fall apart. I have never played these games to occupy my world.
(via TechDirt)
2000/7/20
Marketing ploy of the day: ASUS, manufacturer of 3D graphic accelerator cards favoured by computer gamers, have hit upon a clever way of boosting the sales of their brand: offering the cards with a driver which allows you to see through walls, thus giving ASUS-based players of first-person shooters an unfair advantage over those using rival cards. However, the public didn't like this idea much, and the driver was withdrawn.